Home
About Us
FAQ
Privacy Policy
Contact Us
Books
DVDs
VHS
Charts
Audio Books
General Information
Secure Order Form
Mail & Fax Orders
Shipping Rates

Mastercard
Visa, Discover
* * *
Phone Toll Free:
1-877-577-8743
within U.S.A.
* * *
International
1-336-246-2663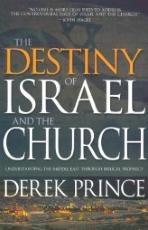 THE DESTINY OF ISRAEL AND THE CHURCH
Understanding the Middle East Through Biblical Prophecy

Derek Prince, 1992, 2007, 2016


$14.95
Retail $15.99
Ships within
24 hours!


Israel is at the center of a powerful clash of forces, but God has established firm covenants with both Israel and the church. The only reliable source of light upon the situation in the Middle East is provided by God's prophetic Word. If we do not seek the light that comes from this source, we will inevitably find ourselves in the dark, subject to confusion and deception. In The Destiny of Israel and the Church, legendary Bible teacher Derek Prince explores the answers to these questions, and more: Has the church replaced Israel in God's plan? Why is the tiny nation of Israel the focus of world attention? What is the restoration of Israel? What is the responsibility of Christians toward Israel? When will true justice and lasting peace come to the Middle East?

---
TABLE OF CONTENTS
Introduction
The Destiny of Israel and the Church
"They Are Not Israel"
Who Is the Church?
Israel's Past and Future
A Little Piece of Land
Is God Unjust?
Election and the Church
Will the Church Also Be a Remnant?
Our Responsibility
The Climax
Answer Key to Study Questions
Appendix A
Appendix B
For Further Study and Information
The Teaching Legacy of Derek Prince
About the Author

---
AUTHOR PROFILES
Derek Prince (1915-2003) is the author of more than 50 books and 600 audio and 100 video teachings, many of which have been translated and published in more than 100 languages. He founded Derek Prince Ministries International, and his daily radio broadcast, "Derek Prince Legacy Radio", still reaches listeners around the world. His concise way of explaining the Bible has helped millions build a foundation of faith.

---
BOOK SPECIFICATIONS
160 pages, paperback, appendix.
ISBN 9781629117690