Home
About Us
FAQ
Privacy Policy
Contact Us
Books
DVDs
VHS
Charts
Audio Books
General Information
Secure Order Form
Mail & Fax Orders
Shipping Rates

Mastercard
Visa, Discover
* * *
Phone Toll Free:
1-877-577-8743
within U.S.A.
* * *
International
1-336-246-2663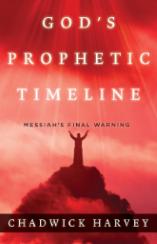 GOD'S PROPHETIC TIMELINE
Messiah's Final Warning

Chadwick Harvey, 2016


$17.95
Retail $18.99
Ships within
24 hours!


Would you like to understand God's prophetic timeline? Do you wonder if our generation is living at the end of the age? Would you like to discover the kingdoms and events that will occur before Messiah's Second Coming? In God's Prophetic Timeline: Messiah's Final Warning, as author Chadwick Harvey answers these questions, these awesome revelations will become very clear to you! He explains in detail the prophecies of Messiah, Daniel, and John the Revelator and expounds upon the details of Messiah's Second Coming events, including the Battle of Armageddon and Messiah's Millennial Kingdom. In concluding this prophetic journey, Harvey explains Messiah's final warning!
In this book you'll discover:
The foundation prophecy of all the end of the age prophecies
The four kingdoms that will rise before Messiah's Second Coming
The region of the ten kings of the Antichrist's kingdom
Who is Mystery Babylon the Great?
What kingdom are we living in today?
---
TABLE OF CONTENTS
Dedicated to
Acknowledgments
Are We the Terminal Generation?
The Terminal Generation
The Vision of a Ram and a Goat
The Vision of the Four Beasts
The People of the Prince Who is to Come
Nebuchadnezzar's Statue Dream
What Kingdom is our Generation
Living in Today?
The Antichrist's Kingdom
Mystery, Babylon The Great, The Mother of Harlots
The Second Coming
Messiah's Millennial Kingdom
The New Jerusalem
Messiah's Final Warning
Epilogue
Endnotes

---
AUTHOR PROFILE
Chadwick Harvey is a Judeo-Christian author, who operates Faithful Performance ministry in order to spread the gospel of Jesus Christ. Chadwick lives in the United States, and he writes on topics about biblical prophecy, Hebraic mysteries, and Old Testament stories found in the Holy Bible. Chadwick's passion and purpose is to proclaim the Jewish roots of Jesus to the Gentiles, as well as reveal to the Jews that Jesus (Yeshua Hamashiach) is the Jewish Messiah, the promised King of Israel!

---
BOOK SPECIFICATIONS
255 pages, paperback.
ISBN: 9781944212445