Home
About Us
FAQ
Privacy Policy
Contact Us
Books
DVDs
VHS
Charts
Audio Books
General Information
Secure Order Form
Mail & Fax Orders
Shipping Rates

Mastercard
Visa, Discover
* * *
Phone Toll Free:
1-877-577-8743
within U.S.A.
* * *
International
1-336-246-2663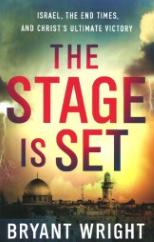 THE STAGE IS SET
Israel, The End Times, and Christ's Ultimate Victory

Bryant Wright, 2017


$14.95
Retail $15.99
Ships within
24 hours!


Even a cursory glance at the news is enough to convince us that the world is falling into chaos. But God is still in control of his creation--and he keeps his promises. In fact, he has a sovereign plan that includes ultimate victory for the church and the salvation of His people, Israel. The Stage is Set carefully illuminates the signs of the times that point toward Christ's glorious appearing and millennial reign, answering questions you have about the identity of the antichrist, the future of Israel, the location of Armageddon, and more. He is coming. Soon. And his people must be ready. Are you?



---
TABLE OF CONTENTS
Introduction: That We Are Living in the End Times Is Indisputable
Birth Pangs
The Signs of the End of the End
Is Anybody Listening?
The Silenced Suffering of Jesus's Followers
The Urgency of the Mission
A Great and Pressing Commission
The Dragon from the Sea
The Rise of the Antichrist
Kingdoms Falling Down
A Foreshadowing of the Antichrist
A Beast Unlike Any Before
The Roman Empire and Today
Can One Man Rule the World?
How the Stage Is Set for the Ultimate Takeover
A Fatal Wound Is Healed
The Supernatural Power of the Antichrist
A Seat in the Temple of God
The Abomination of Desolation
A Nightmare Unfolds
The Great Tribulation Unleashed on the Earth
The Demonic Trinity Revealed
The False Prophet and the Mark of the Beast
Evil Unrestrained
How the World Will Be Deceived
The Ultimate Destination Wedding
Jesus Returns for His Bride
When the Trumpet Sounds
How We Get to the Ultimate Destination Wedding
No One Knows the Day or Hour
Four Rapture Theories
Armageddon
A Great Battle in the Valley of Slaughter
An Unvelievable Spectacle Witnessed by the World
A Jewish Prophet Explains Armageddon
God's Irrevocable Promise
The Salvation of Israel and the Hope of Gentiles
In Those Days
Jesus Describes His Second Coming
The Touchdown
Jesus Returns to His City
Three Great Feasts
The Annual Celebration of His Coming
Your Kingdom Come
The Millennial Reign
The Ultimate Hope
Life on Earth as It Was Always Meant to Be
Epilogue: Closer than Ever Before
Acknowledgments
Notes

---
AUTHOR PROFILE
Bryant Wright is pastor of the 8,500-member Johnson Ferry Baptist Church in Marietta, Georgia, and past president of the Southern Baptist Convention. His teaching is broadcast on six major radio stations in Georgia and nearly sixty in Florida. His TV spots air on major networks, including NBC, CNN, ESPN, Headline News, MSNBC, and Fox News.

---
BOOK SPECIFICATIONS
236 pages, paperback.
ISBN: 9780801019517