Home
About Us
FAQ
Privacy Policy
Contact Us
Books
DVDs
VHS
Charts
Audio Books
General Information
Secure Order Form
Mail & Fax Orders
Shipping Rates

Mastercard
Visa, Discover
* * *
Phone:
1-890-434-5708
* * *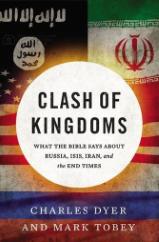 CLASH OF KINGDOMS
What the Bible Says About Russia, ISIS, Iran, and the End Times

Charles Dyer and Mark Tobey, 2017


$14.95
Ships within
24 hours!


ISIS, Russia, and Iran are daily atop headlines and are among chief sources of intensifying unease among Americans about how current world conflicts will unfold. Using the Old Testament texts of prophets Ezekiel and Daniel as foundational passages, Bible experts Charles Dyer and Mark Tobey explain the connection between Bible prophecy and real-time events such as the growing alliance between Russia and Iran; the unsettling of the region as ISIS ravages countries and redraws boundaries; and the pull of Turkey and Saudi Arabia into the fray by Russian encroachment, Iranian meddling, and the United States' inability to create and lead a coalition. Simultaneously, Dyer and Tobey provide practical encouragement and spiritual principles for finding comfort, strength, and perspective in an unsettling time while laying out a strategy for responding out of faith rather than fear in the face of end times concerns.

---
TABLE OF CONTENTS
Foreword
Introduction: Look Around and Be Wise
The Problem of Nations
The Bear Is Back
What About Russia?
After ISIS
The Rebuilding of a Persian Power
Picking Up the Pieces
The Destabilization of Europe
Israel
The Eye of the Hurricane
A Woman in a Basket
The Rise of Babylon
Faith, Not Fear
Acknowledgments
Notes
About the Authors

---
AUTHOR PROFILES
Charles Dyer, PhD, was provost and dean of education at Moody Bible Institute before becoming Professor-at-Large of Bible at Moody and host of The Land and the Book radio program. He serves as associate pastor of Grace Bible Church in Sun City, Arizona, where he lives with his wife, Kathy.
Mark Tobey is a pastor and freelance editor and writer and currently serves on staff at Insight for Living in Frisco, Texas. He and his wife Tracy, live in north Texas with their three children, Jacob, Hannah, and Jonathan.

---
BOOK SPECIFICATIONS
118 pages, paperback.
ISBN 9780718089597