Home
About Us
FAQ
Privacy Policy
Contact Us
Books
DVDs
VHS
Charts
Audio Books
General Information
Secure Order Form
Mail & Fax Orders
Shipping Rates

Mastercard
Visa, Discover
* * *
Phone:
1-890-434-5708
* * *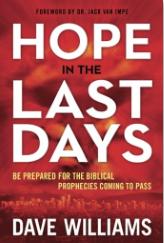 HOPE IN THE LAST DAYS
Be Prepared for the Biblical Prophecies Coming to Pass

Dave Williams, 2017


$14.95
Retail $15.99
Ships within
24 hours!


Understand how ancient biblical prophecies are coming to pass in our day, how coming prophetic events will impact you, and how there is hope for all followers of Christ.
We are approaching eternity at breakneck speed. We live in the very first generation to see all the end-time signs converging. The apocalyptic storm clouds foretold by the ancient biblical prophets are now arriving, and the hearts of people everywhere hunger to know more about the coming events. Hope in the Last Days will walk you through the end-time prophecies, helping you prepare for what is about to transpire on the earth. What you believe about prophecy will dramatically affect your future, the way you live your life, and how you prepare for what lies ahead. If you thought the past was intense, get ready for the future.

---
TABLE OF CONTENTS (Abridged)
Acknowledgments
Foreword by Dr. Jack Van Impe
Introduction
History Converges: The Times and the Seasons
Avoiding Prophetic Pitfalls and Defining Eschatological Terms
The Spirit of Prophecy: How I personally Met Jesus in Bible Prophecy
The Prophetic Chronology: Nothing Makes Sense Without This
Preview Signs of the Apocalypse: A Sneak Peek Into the Future
Last Days Nations and Groups: The Chilling Accuracy of the Ancient Prophets
The United States in Bible Prophecy: What the Future Holds for This Superpower
The Mystery Nation: You Carry the Power of Another World
The Great Secret Revealed: The Mystery of the Disappearance of Millions
The Final Shabua: Earth's Inescapable Hour of Agony and Distress
The Coming Kingdom: After Jesus Returns
Final Words: Admonitions and Encouragement
Appendix
How to Ask Jesus to Be Your Savior and Become a Part of His Kingdom
Notes
Bibliography

---
AUTHOR PROFILE
Dave Williams is a teacher, speaker, author, and trainer who has authored more than sixty books that inspire readers in many areas of Christian living. His book The New Life has sold more than three million copies, and his articles have appeared in numerous national magazines. He is a frequent guest or host on the Jack Van Impe Presents television program aired on Daystar.

---
BOOK SPECIFICATIONS
200 pages, paperback, bibliography.
ISBN: 9781629989396