Home
About Us
FAQ
Privacy Policy
Contact Us
Books
DVDs
VHS
Charts
Audio Books
General Information
Secure Order Form
Mail & Fax Orders
Shipping Rates

Mastercard
Visa, Discover
* * *
Phone:
1-890-434-5708
* * *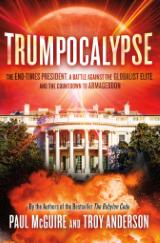 TRUMPOCALYPSE
The End-Times President, A Battle Against the Globalist Elite, and the Countdown to Armageddon

Paul McGuire and Troy Anderson, 2018


$23.95
Retail $25.00
Ships within
24 hours!


The Stunning victory of "the chaos candidate" Donal Trump not only confounded the predictions of pundits and pollsters but convinced many that the world is on the fast track to the end of human civilization. Many are now asking: Will President Trump guide America and the free world through a series of major crises as the biblical end-times narrative unfolds and as many people with prophetic gifts are predicting, or will he trigger the "Trumpocalypse," resulting in World War III and nuclear Armageddon?
Trumpocalypse explores the enigmatic prophecies and "biblical codes" involving Trump, the revolution against the globalist elites, the economic "reset" announced by International Monetary Fund officials, the occult elite's secret plan for humanity and campaign of mass deception, the president's mysterious link to the campaign to rebuild the Third Temple in Jerusalem, and why Trump and millions of "deplorables" are fighting to stop the hidden agenda of the Estabishment--now largely controlling both political parties--that is making the "1 percent" even richer while working- and middle-class people watch their income and net worth flatline or plummet.

---
TABLE OF CONTENTS
Introduction: The God Factor
PART I: THE TRUMPOCALYPSE
Trumpocalypse Now
Nostradamus, Nuclear "Football," and Bible Codes
Super-EMP Threat and "Daughter of Babylon"
Deep State Coup and Occult Explosion
The Great Mass Deception

PART II: GLOBALISM VS. NATIONALISM

The Trump Revolution
Battle Against the Globalist Elite
The Illuminati's Secret Plan
The Economic Reset

PART III: NINEVEH MOMENT

King Cyrus and the Third Temple

Conclusion: Last Trump or Nineveh Moment?
Acknowledgments
Appendix A: Prayer of Salvation
Appendix B: The Trump Presidency Quotes
Notes
---
AUTHOR PROFILES
Paul McGuire is an internationally recognized Bible prophecy expert and regular commentator on Fox News, CNN, and the History Channel. He is the host of the GOD TV international prophecy television show, Apocalypse and the End Times. He is an eschatology professor and each year speaks to tens of thousands of people at Bible prophecy conferences. He lives in the Los Angeles Area.
Troy Anderson is a Pulitzer Prize-nominated investigative journalist, bestselling co-author along with Paul McGuire of The Babylon Code, former executive editor of Charisma magazine and Charisma Media, and a regular guest on numerous television and radio shows. He lives in Irvine, California.

---
BOOK SPECIFICATIONS
356 pages, hardcover, appendix.
ISBN: 9781478993599