Home
About Us
FAQ
Privacy Policy
Contact Us
Books
DVDs
VHS
Charts
Audio Books
General Information
Secure Order Form
Mail & Fax Orders
Shipping Rates

Mastercard
Visa, Discover
* * *
Phone Toll Free:
1-877-577-8743
within U.S.A.
* * *
International
1-336-246-2663
Save 25% on these Great Prophecy Products!
Sale Specials Change Without Notice.
Find Something You Like?
Don't be Disappointed.
Order Today!
---
RAPTURE READY... OR NOT?
15 Reasons This Is The Generation That Will Be Left Behind

Terry James, 2016


Sale $11.20
Retail $14.95
Ships within
24 hours!


Jesus stated clearly that it will be "business as usual" right up until He catastrophically intervenes again in the affairs of mankind!
This book is for this generation of readers who are confused and look upon a world that seems to have destroyed opportunity for a bright, abundant future. It presents a reason for assurance and comfort to all individuals--regardless of age--who will but accept Truth from God's prophetic Word and claim for themselves the Promises found therein. To get across as urgently as possible the message that this is the very time of the end of the Church Age (Age of Grace). The Rapture is about to catastrophically strike an unsuspecting world of both unbelievers and believers. Jesus Christ is the Shelter from the coming Tribulation storm of God's Wrath and Judgment. 314 pages, paperback.
More Information, Table of Contents, Author Profile
---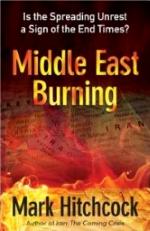 MIDDLE EAST BURNING

Mark Hitchcock, 2012


Sale $10.50
Retail $13.95
Ships within
24 hours!


Is the Spreading Unrest a Sign of the End Times?
Middle East Burning helps make sense of the bewildering firestorms raging in the Arabic-Israeli world. Widespread revolutions in multiple Arab nations. New powers rising to challenge entrenched despots and ruling bodies. Bitter new conflicts further enflaming the many already in place. And a pall of uncertainty over how it will all play out.
Indeed the Middle East is burning. How can we make sense of it all? At first glance the many hotspots may seem without a pattern, without rhyme or reason. But a look at Scripture helps paint a clear picture of what's taking place, giving insight on current events in Egypt, Libya, Sudan, Russia, Turkey, Iran, Syria, and more. A riveting and timely survey of things now and things to come! 243 pages, paperback, appendix.
More Information, Table of Contents, Author Profile
---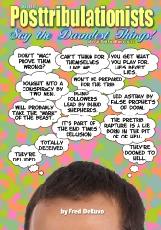 SOME POSTTRIBULATIONISTS SAY THE DARNDEST THINGS! (About PreTrib Rapturists)

Fred DeRuvo, 2009


Sale $7.50
Retail $9.95
Ships within
24 hours!


Obviously, not all aspects of Eschatology can be correct. Does this mean however, that an incorrect view of Eschatology means a lack (or even a loss) of salvation? Are the two connected? To hear some talk, the answer would be a vociferous "yes." Most often, people point to those who believe and espouse a PreTrib Rapture position, as one major source of error, resulting from deception. Not only is this view seen as erroneous, but it is also believed that the individuals who hold to this position are in grievous danger of falling headlong into the Great Tribulation completely unprepared. The tragic results of this, says those who warn, can only mean one thing: potential loss of salvation due to an underlying deception. Is this where the PreTrib Rapture position naturally leads? This book takes a look at the claims of those who condemn not only the PreTrib Rapture position, but the one who holds the position. 68 pages, paperback (7" X 10"), illustrated, list of resources. View: Premillennial, Pre-Tribulation.
More Information, Table of Contents, Author Profile
---
TOP | HOME
Copyright 2003-2017 by Cliffside Publishing House