Home
About Us
FAQ
Privacy Policy
Contact Us
Books
DVDs
VHS
Charts
Audio Books
General Information
Secure Order Form
Mail & Fax Orders
Shipping Rates

Mastercard
Visa, Discover
* * *
Phone Toll Free:
1-877-577-8743
within U.S.A.
* * *
International
1-336-246-2663
Save 25% on these Great Prophecy Books!
Sale Specials Change Without Notice.
Find Something You Like?
Don't be Disappointed.
Order Today!
---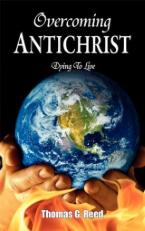 OVERCOMING ANTICHRIST
Dying To Live

Thomas G. Reed, 2012


Sale $9.70
Retail $12.95
Ships within
24 hours!


The final days of human history bring with them the darkest days of history. This last seven-year period of great Tribulation is a time of extreme anguish and universal killings highlighted by the revealing and reign of the man of sin, Antichrist. In Overcoming Antichrist, we look at some of the mysteries of God regarding the end of time, even the presumed purposes of all the tragic faces and forces about to be released on this world, sinner and saint alike. For the saint, these are indeed the worst of times, as persecution and dying become the order of the day. In death, however, saints not only find a better life, but from a divine perspective and a godly purpose, they impact the Antichrist as others cannot, that is until the Son of God Himself appears and makes a full end of him at the Battle of Armageddon. 90 pages, paperback, bibliography. View: Post-Tribulation Rapture
More Information, Table of Contents, Author Profile
---
ONCE UPON AN APOCALYPSE
Book 1 - The Journey Home

Jeff Motes, 2015


Sale $14.95
Retail $19.95
Ships within
24 hours!


The day was like any other day--until it became "The Day." At 4:05 p.m. the United States was attacked with an Electro-Magnetic Pulse (EMP) weapon. A 20 mega-ton nuclear warhead was detonated high in the atmosphere above Kansas, blanketing most of the contiguous United States and parts of Canada and Mexico with an electro-magnetic pulse that damaged nearly all microprocessors and electronic controls beyond repair. Nearly every system that depends on computers and electronics has ceased to work. The electrical grid goes down. The water system goes down. The sewer system goes down. The phone system goes down. The cellular system goes down. Cars stop. Tractors stop. Radio and TV stations go dark. The internet is no more. No more ambulance services. No more emergency services. No more government services. No more 911. In the twinkle of an eye America is sent back deep into the 19th century.
Jill Barnes, a single mom, finds herself stranded on the side of Interstate 485 near Birmingham, Alabama. Jack Chance, a bank vice-president, is stranded on Interstate 85 near Montgomery, Alabama. John Carter, a contractor, finds himself stranded near Leeds, Alabama. Each must travel home to Clarke County in rural southwest Alabama. Follow them as they each make their decisions and journey home while the fabric of American society is torn asunder and criminals run amok. The story is exciting and enlightening, compelling and fast moving, infuriating and redemptive, heart-rending and heart-warming. Keep some tissue close to hand, just in case... 357 pages, paperback.
---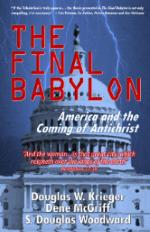 THE FINAL BABYLON
America and the Coming of Antichrist

Douglas W. Krieger, Dene McGriff & S. Douglas Woodward, 2013


Sale $18.70
Retail $24.95
Ships within
24 hours!


What if the Antichrist were an American leader? What if he were alive today and living in the U.S.A? What if he were only a few years away from revealing himself to the world? Instead of being omitted from Bible prophecy as many of the major eschatology scholars have taught for decades, what if America were at the very center of Bible prophecy? What if the U.S.A., rather than Europe, Rome, or Babylon, were the power base of Satanís conspiracy against the Kingdom of God? These three authors, Douglas W. Krieger, Dene McGriff, and S. Douglas Woodward, argue just that. Together, they have written what may be seen as a landmark book rethinking the traditional prophetic scenario in light of developments in America and the Middle East. 340 pages, paperback, appendix, bibliography.
More Information, Table of Contents, Author Profiles
---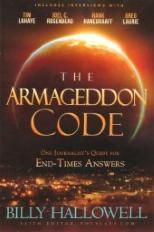 THE ARMAGEDDON CODE
One Journalist's Quest For End-Times Answers

Billy Hallowell, 2016


Sale $12.95
Retail $16.99
Ships within
24 hours!


Interest in the end times has been at an all-time high in recent years, but how much of what we read in today's headlines and best-selling books is true? What does the Bible really predict will happen and when? Why are there so many different viewpoints among Christians, and are any of them right? With questions like these, it's no wonder that the subject of the end times creates confusion, doubt, and anxiety for many people today.
The views of a broad range of today's foremost experts in Bible prophecy and other leading voices in Christian ministry have been gathered in one book to allow you to educate yourself on what the Bible says, compare what the experts believe, and draw your own conclusions. In one-on-one interviews with Billy Hallowell, these leaders explain what they believe the Bible teaches us about the Rapture--including views on pre-Tribulation, post-Tribulation, and everything in between--Antichrist, Tribulation, Millennium, mark of the beast, and more. 207 pages, paperback.
More Information, Table of Contents, Author Profile
---
TARGET ISRAEL
Caught in the Crosshairs of the End Times

Tim LaHaye & Ed Hindson, 2015


Sale $11.95
Retail $15.99
Ships within
24 hours!


As the conflicts in the Middle East grow in intensity, we cannot help but wonder what lies ahead for the nation of Israel and whether any of it means we are drawing closer to the last days. In their exciting new book Target Israel, prophecy experts Tim LaHaye and Ed Hindson explain why Israel is at the center of God's prophetic plan for the future. As you carefully review the Scriptures with them, you'll learn about...
the miracle of Israel's modern-day existence
Israel's unique purpose in the world
the ways in which Israel serves as a super sign of the end times
the coming alliance of nations that will attempt to annihilate Israel
Christ's return to Jerusalem to rule the world
You'll be inspired as you see how God will bring all His prophetic promises to pass, and be encouraged to share your faith with greater urgency in light of Christ's second coming. 224 pages, paperback.
More Information, Table of Contents, Author Profiles
---
TOP | HOME
Copyright 2003-2017 by Cliffside Publishing House