Home
About Us
FAQ
Privacy Policy
Contact Us
Books
DVDs
VHS
Charts
Audio Books
General Information
Secure Order Form
Mail & Fax Orders
Shipping Rates

Mastercard
Visa, Discover
* * *
Phone Toll Free:
1-877-577-8743
within U.S.A.
* * *
International
1-336-246-2663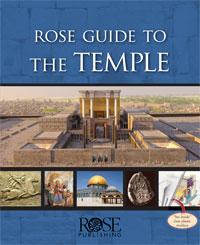 ROSE GUIDE TO THE TEMPLE

Dr. Randall Price, 2012



The ONLY book on the Temple with clear plastic overlays and 150 color illustratons, diagrams, and charts!

In the late afternoon sunlight, the Temple Mount in Jerusalem is one of the most breathtaking places in the world. This was the site of King Solomon's great Temple, a "house of prayer for all people" - the center of worship and celebration.

Now you can see what the Temple looked like more than 3,000 years ago. Rose Guide to the Temple is a full-color overview of the Temple, with more than 100 images, charts, diagrams, photos, and illustrations, many of which have never published before. Rose Guide to the Temple is a clear and easy-to-understand examination at the temple and contains clear plastic overlays and stunning posters that no other Temple guide has. It covers the span of time from Abraham to modern day. 134 pages + clear plastic overlays, spiral-bound hardcover.

More Information, Table of Contents, Author Profile
---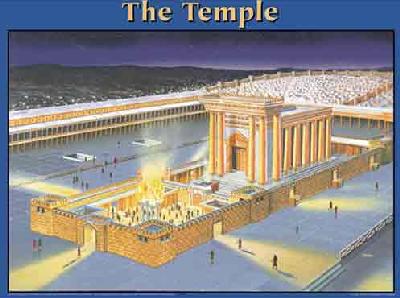 THE TEMPLE - Wall Chart

Rose Publishing, 2000



This is the beautiful Temple where Jesus amazed the scholars as a child, where he threw out the money changers, where he praised the widow who gave all she had, and where the veil ripped from top to bottom. Perfect for teaching about the life of Jesus and Easter. See the Temple, the Court of the Gentiles, the Court of the Women, and the Portico. Chart size: 19.5" x 26". Reproducible worksheets and teaching tips on back of this chart include cutaway illustrations of The Tabernacle, Solomon's Temple and Herod's Temple. Lamination will not affect the ability to photocopy worksheets.

Topics include: diagram of Tabernacle, diagram of Temple, diagrams of Temple, Herods Temple, Holy of Holies, Holy Place, illustration of Temple, illustrations of Temple, Jerusalem, Most Holy place, picture of Tabernacle, picture of Temple, pictures of Temple, pillars, portico, Tabernacle, Solomons Temple, Temple diagrams, Temple illustrations, Temple in Jerusalem, Temple measurements, Temple mount, Temple pictures
---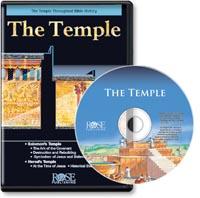 THE TEMPLE POWERPOINT PRESENTATION
CD for Windows or Macintoshes

Rose Publishing, 2009



This PowerPoint shows beautiful pictures of the Old Testament Temple built by King Solomon and the New Testament Temple where Jesus taught. The Temple was built to honor God and to house the Ark according to the instructions given by God. Drawn to Bible measurements, the illustrations show and explain all of the important features: the Ark of the Covenant, the veil, the Holy Place, the Most Holy Place, the bronze pillars, the "Sea," the Bronze Altar, and the cherubim.This readyto- use PowerPoint presentation includes more than 100 slides.

Computer System Requirements: To run this version of PowerPoint Four Views of the End Times, you must have Microsoft PowerPoint 2001 or higher already installed on your computer (this CD does not come with PowerPoint application) and Adobe Acrobat Reader 4.0 or higher (if printing out the handouts), as well as -- Minimum for PCs: Pentium III or better, Windows 98, 98 2nd ed., NT 4.0 with Service Pack 6, Millennium, or Windows Professional, a CD drive, 256-Color Monitor. Minimum for Macintoshes: Mac OS 8.5 or higher; PowerPC, G3, or higher; a CD drive, 256-Color Monitor.
---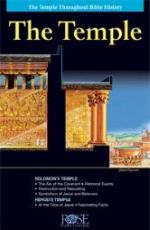 THE TEMPLE - Pamphlet

Rose Publishing, 2005



The Temple is an amazing, bestselling guide that presents hundreds of facts about the Temple. The full-color, glossy pamphlet covers the Tabernacle in the wilderness to the Temple built by King Solomon, Zerubbabel, and Herod's Temple, the one Jesus knew so well. The Temple pamphlet has colorful illustrations of the Temple drawn to scale based on measurements from the Bible. Each of the Temple furnishings are explained in detail, as well as their functions, purposes, and the meanings they have for believers today. 12 panels, fits inside most Bibles, 8.5 x 5.5 inches, unfolds to 33 inches long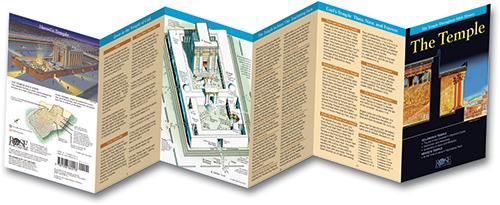 ---
TOP | HOME
Copyright 2012 by Cliffside Publishing House