Home
About Us
FAQ
Privacy Policy
Contact Us
Books
DVDs
VHS
Charts
Audio Books
General Information
Secure Order Form
Mail & Fax Orders
Shipping Rates

Mastercard
Visa, Discover
* * *
Phone Toll Free:
1-877-577-8743
within U.S.A.
* * *
International
1-336-246-2663
THE RISE OF THE ISLAMIC ANTICHRIST - DVD

Scot Dryer, 2007



Scot Dryer is an international teacher of Bible prophecy, terrorism and the Arab-Israeli conflict. He has thousands of hours of study devoted to the history of the conflicts in the Middle East from a biblical perspective. Scot will show scriptures from an enlightening point of view that point to a Syrian Antichrist and a Persian (Iran) False Prophet. He presents a Biblical description of the Antichrist (the Islamic Al-Mahdi), the composition of his Islamic Kingdom, as well as his physical traits as described in Scripture. See if he can convince you the Antichrist comes from Syria, and the False Prophet from Iran. 2hrs. 40 min. DVD Region Code 1 (U.S. & Canada).


---
THE GOSPEL OF THE ANTICHRIST EXPOSED! - DVD

Peter & Paul Lalonde, 1997



Wireless Internet, online newspapers, magazines, sattelite radio, digital television... these forms of global communication media are more powerful today than they have ever been. Are they the gateway to a new and enlightened existence for humanity? Or are they an ominous consolidated voice that seems to champion popular causes while undermining traditional Christian faith. Is this headlong charge into a world of high tech communications really the gospel of the antichrist? If so what are the implications and conseuqence of this insidious deception? Join Peter and Paul Lalonde as they probe and analyse these false prophets, stripping away the falsehoods and deceits that obscure the terrifying truth. Closed Captioned. DVD Region Code 1 (U.S. & Canada).
---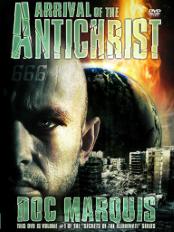 ARRIVAL OF THE ANTICHRIST - Set of Two DVDs
Secrets of the Illuminati Series #1

Marquis, Doc, n.d.



Former Illuminist/Satanist Doc Marquis provides insight into the coming "Masonic Christ", the Antichrist, which only an insider could know. Chapters include - 1) Introduction; 2) History of the Masters of the Illuminati; 3) Religion of the Illuminati - and of Antichrist; 4) The Illuminati 7-Part Plan for Global Conquest. Focus is on the infamous Rothschild 'Protocols of the Learned Elders of Zion' and how leaders are following that plan as a blueprint; 5) The two Great Seals of the United States; 6) Maps of Washington, D.C. From this discussion, Doc presents a thorough examination of the Illuminati Card Game, showing specific cards. Running Time: 3 hours, 30 minutes on 2 DVDs. Languages: English. DVD Region Code 1 (U.S. & Canada).
---
TOP | HOME
Copyright 2007-2012 by Cliffside Publishing House