Home
About Us
FAQ
Privacy Policy
Contact Us
Books
DVDs
VHS
Charts
Audio Books
General Information
Secure Order Form
Mail & Fax Orders
Shipping Rates

Mastercard
Visa, Discover
* * *
Phone Toll Free:
1-877-577-8743
within U.S.A.
* * *
International
1-336-246-2663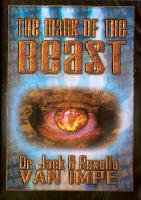 THE MARK OF THE BEAST - DVD

Dr. Jack & Rexella Van Impe, n.d.



It's one of the clearest prophecies of the Bible. It simply says that in the last days no man or woman will be able to buy or sell anything unless they are willing to recieve "a mark" in their right hand or forehead. How close are we to such a totalitarian system? Are all of the necessary pieces already in place? Has the system been tested? You'll find the answers in this stunning docu-drama from Dr. Jack and Rexella Van Impe. You'll be amazed to hear about the latest developments in computer surveillance, spy sattelites, implantable microchips, hand-scan machines and global databases. Through controversial interviews with leading figures in these new technlogies, social reform and prophecy, you'll get the latest information on these astounding developments that foretell the coming of the Mark of the Beast. Closed Captioned. DVD Region Code 1.
---
LAST DAYS: Hype or Hope? - DVD
An Investigative Report

Dr. Jack & Rexella Van Impe, 1996



Is Bible prophecy really being fulfilled in this generation? Could Armageddon and the end of the age be just around the corner? Skeptical investigative reporter Steve Stone sets out to find the truth in this incredible docu-drama. Carefully analyzing Biblical prophecies, Stone, (Gareth Bond) takes a hard look at the facts in this shocking and exciting film. Reporting from France, Israel, Turkey, the United States and Canada, Stone carefully examines world events to see just how closely they align with what the Bible says. If you want to know why the Van Impes are convinced that these are the last days, then this film is for you. If you know someone who is skeptical about the promises of the Bible, then this is one film they must see! Closed Captioned. DVD Region Code 1.
---
TOP | HOME
Copyright 1998-2012 by Cliffside Publishing House