Home
About Us
FAQ
Privacy Policy
Contact Us
Books
DVDs
VHS
Charts
Audio Books
General Information
Secure Order Form
Mail & Fax Orders
Shipping Rates

Mastercard
Visa, Discover
* * *
Phone Toll Free:
1-877-577-8743
within U.S.A.
* * *
International
1-336-246-2663
International Customers - click here for important information on VHS & DVD compatability before ordering.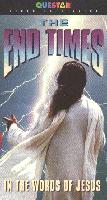 THE END TIMES
In the Words of Jesus - VHS & DVD

Questar Films, 2003


---
Examines the major events that will immediately precede and unfold during the Tribulation period. The Rapture of the Church, a time when Jesus Christ will appear and take the faithful to heaven instantly. The Rise of the Antichrist, a world leader empowered by Satan. The outpouring of God's wrath and the Final Judgment upon the earth. The Triumphant Return of Jesus. Features insights from Dr. Tim LaHaye, Dr. Ed Hindson, and Dr. Thomas Ice. 60 minutes.
---
SEVEN SIGNS OF CHRIST'S RETURN - VHS Video

narrated by Edmund Purdom, 1997



He promised to return. The scriptures foretell of seven events that will hearld the second coming of Jesus Christ. One is already part of history. Some are in the making now. The rest are events in the future. The Bible says, "the Son of Man is coming at an hour when you do not expect him." However, there are signs that the world is watching for. The question is, at what hour are we on the clock of history? 60 minutes. VHS video. Closed Captioned.
---
BATTLE OF ARMAGEDDON - VHS Video

Stan Johnson, 2005



Stan has been to Mount Megiddo, one of the most famous battlegrounds in the world, three times and will show pictures of where God will gather the armies in the valley of decision for the Battle of Armageddon to march on Jerusalem. Historians believe that more battles were fought at this location than anywhere else on earth. The battle enabling the British Field Marshal Edmund Allenby to take control of the Holy Land from the Turks occurred at Megiddo. Two hours, 40 minutes. VHS Video.


---
TOP | HOME
Copyright 1998-2012 by Cliffside Publishing House