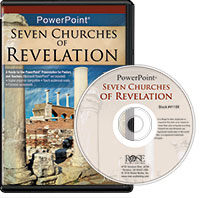 SEVEN CHURCHES OF REVELATION POWERPOINT PRESENTATION
CD for Windows or Macintoshes

Rose Publishing, 2016


$35.95
Retail $39.99
Ships within
24 hours!


Compare the Seven Churches of Revelation. Jesus had a unique message for each of seven churches in the book of Revelation. His messages to the churches remain as valuable words for believers today. This ready-to-use PowerPoint presentation covers the historical background, the churches' strengths and weaknesses, and Jesus' challenges and promises to each church. Features:
More than 100 slides
More than 50 photos and illustrations
Includes map and application questions
Printable classroom handouts
Computer System Requirements: To run this version of PowerPoint, you must have Microsoft PowerPoint 2007 or higher already installed on your computer (this CD does not come with PowerPoint application) and Adobe Acrobat Reader 9.0 or higher (if printing out the handouts), as well as -- Minimum for PCs: Intel Core 2 Duo or better, Windows XP or higher, 256-Color Monitor. Minimum for Macintoshes: Mac OS 10.6 or higher, Intel Core 2 Duo or higher, 256-Color Monitor.
Also see Seven Churches of Revelation Pamphlet
More PowerPoint Presentations
---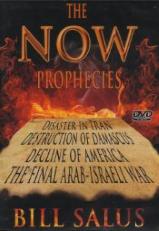 THE NOW PROPHECIES - DVD

Bill Salus, 2016


$13.95
Retail $14.95
Ships within
24 hours!


God's word to Noah was to prepare NOW for a worldwide flood. God's word to Joseph was to prepare Pharaoh and Egypt NOW for seven years of famine. God's word to Jeremiah was to prepare the Jews NOW for seventy years of exile into Babylon. The key word in these historical examples was NOW! What does God's Word say for us to prepare for NOW? What are the tough decisions we need to make? This DVD identifies and explains the Biblical Prophecies that wer written ages ago for this generation! It contains two important lessons from the NOW Prophecies Book. They are entitled, "Preparing for the Coming Prophecies" and "Nuclear Showdown in Iran, Revealing the Ancient Prophecy of Elam." DVD Region Code 1 (U.S. & Canada).
Also available in Paperback Book
---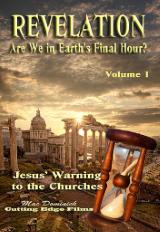 REVELATION: Are We in Earth's Final Hour? - DVD
Volume 1

Mac Dominick, 2016


$17.95
Retail $19.95
Ships within
24 hours!


While there have been any who have taught and studied the Book of Revelation, most who teach it either teach it out of the context of the balance of the Word of God or fail to ask the hard questions surrounding the prophecies in this book. We at Cutting Edge Ministries are presenting this series to provide answers to not only the mysteries of this book, but also to deal with difficult subjects and answer the hard questions. A few of the points we will cover include:
The Rapture of the Churchtrue or false?
Will the Antichrist be Islamic?
How do we understand Islamic eschatology?
Who is ISIS, and will ISIS conquer the Middle East?
What is the true bloodline of the Antichrist?
What is the fate of Russia?
How can the stars fall to earth from heaven?
Was there any prophetic significance to Nazi Germany?
Can we find the USA in the Book of Revelation?
We will teach the book in a survey format that will mingle a traditional, contextual approach to the book with a digression to apply these teachings and prophecies to cover the influence (or lack of influence) of the events we see taking place right before our eyes. Running Time: Approx. 2 hours. DVD Region Code 1 (U.S. & Canada).
---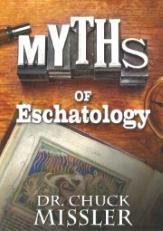 MYTHS OF ESCHATOLOGY - DVD

Dr. Chuck Missler, 2016


$17.95
Retail $19.95
Ships within
24 hours!


Eschatology is a part of theology concerned with the final events of history, or the ultimate destiny of humanity. This concerpt is commonly referred to as the "End Times" or "Last Days." In this field of study, there is a minefield of disinformation, misunderstandings and myths concerning many future events:
The Rapture
Does the Church go through the "Great Tribulation"?
Is there a literal "Millennium"?
Does the Church "replace" Israel?
What happened to the Davidic Covenant?
Is Everyone in Heaven equal?
Under Grace, does behavior matter?
Dr. Chuck Missler sheds light on these and some of the widely accepted myths surrounding some of the most important events on our horizon. Running Time: Approx. 120 minutes. DVD Region Code 0 (Worldwide)
---
ISRAEL'S PROPHESIED TRIUMPH OVER THE PALESTINIANS - DVD

David Bay, 2015


$14.95
Ships within
24 hours!


Obadiah 15-18 foretells the annihilation by fire of an entire nation, the House of Esau, which today are the Palestinians. Israel possesses the "Weapon of Fire" (Fuel Air Bomb) that could fulfill this prophecy precisely! Understanding how Israel is planning to carry out this annihilation soon is critical to comprehending events in Israel today between the Palestinians and Israel. Consider the somber prophecy of Obadiah 18: 'The house of Jacob shall be a fire and the house of Joseph a flame, but the house of Esau shall be stubble; they shall kindle them and burn them and consume them, and there shall be no more survivor of the house of Esau, for the Lord has spoken it.' [Verse 18] This prophecy states that the nation of Israel [the combined houses of Jacob and Joseph] shall have some kind of a fire build up within them that will suddenly explode outward to consume the House of Esau in 100% annihilation. Since a weapon of fire does not travel outward from its source too far, we can assume that this House of Esau must be living in close proximity to Israel at the moment of this conflagration. Thus, the major question is, 'who is the House of Esau today'? It is the Palestinians, led currently by Mahmoud Abbas. Running Time: 46 minutes. DVD Region Code 1 (U.S. & Canada).
---
THE HARBINGER MAN - DVD
The Jonathan Cahn Story

Jonathan Cahn, 2015


$17.95
Retail $19.95
Ships within
24 hours!


There are few books that alter the course of a nation. Rabbi Jonathan Cahn's The Harbinger is such a book. It burst onto the New York Times best-seller list in early 2012 and stayed there for more than one hundred weeks. Then Cahn did it again with The Mystery of the Shemitah, an instant bestseller in 2015.
But what of the author himself? What do we really know about him? What is the life story of Jonathan Cahn, known as "The Harbinger Man" and a Messianic Rabbi? How did Cahn rise from relative obscurity to worldwide prominence and acclaim? Raised a Reform Jew, and hardened as an atheist, why did Cahn beg God to reveal Himself by laying Cahn near death's door? Was it Cahn's wake up call to surrender to Christ? But why? For what purposes? Now, for the first time ever in the biographical documentary, The Harbinger Man: The Jonathan Cahn Story, Rabbi Cahn reveals (in his own words) his journey from being God's enemy to becoming a close confidante. Running Time: 102 minutes. Closed Captioned. Optional Spanish subtitles. DVD Region Code 1 (U.S. & Canada).
---
AGENTS OF BABYLON
Set of Nine Unabridged Audio CDs

Dr. David Jeremiah, 2015


$23.95
Retail $26.99
Ships within
24 hours!


In his #1 New York Times bestseller Agents of the Apocalypse, noted prophecy expert Dr. David Jeremiah explored the book of Revelation through the lens of its major players. Now, in the much-anticipated follow-up, Agents of Babylon, Dr. Jeremiah examines prophecy through the eyes of the characters in the book of Daniel, explains what the prophecies mean, and helps us understand how these prophetic visions and dreams apply to our lives today. Written in the same highly engaging half dramatization, half Bible teaching format as Agents of the Apocalypse, Agents of Babylon is not only an in-depth exploration of the characters and prophecies contained in the book of Daniel but also a dramatic retelling of Scripture that is sure to bring ancient prophecy to light like never before. Set of Nine Unabridged Audio CDs. Running Time: Approx. 645 minutes. Read by Todd Busteed.
---
TOP | HOME
Copyright 1998-2016 by Cliffside Publishing House