Home
About Us
FAQ
Privacy Policy
Contact Us
Books
DVDs
VHS
Charts
Audio Books
General Information
Secure Order Form
Mail & Fax Orders
Shipping Rates

Mastercard
Visa, Discover
* * *
Phone Toll Free:
1-877-577-8743
within U.S.A.
* * *
International
1-336-246-2663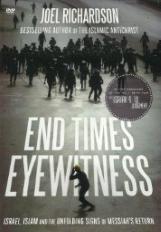 END TIMES EYEWITNESS - DVD
Israel, Islam and the Unfolding Signs of Messiah's Return
Joel Richardson, 2014


$24.95
Ships within
24 hours!


Is the return of Jesus closer than you think? What are the most powerful prophetic signs being fulfilled on the earth today? How is the new Middle East after the Arab Spring aligning with the testimony of the biblical prophets? What are the little-known prophetic signs that few are paying attention to? End Times Eyewitness takes you on a firsthand journey into the heart of the biblical world, to the front lines of the ongoing Middle Eastern revolutions, to discover the shocking answer to all of these questions. Filmed in several nations and featuring the testimonies of global Christian leaders, pastors, theologians and missionaries, "End Times Eyewitness" reveals which biblical prophecies of the Last Days are being fulfilled on the earth today and what is coming next. Join New York Times bestselling author Joel Richardson as he interviews: Old Testament scholar Walter C. Kaiser Jr.; Messianic rabbi Jonathan Cahn; CBN Middle East bureau chief Chris Mitchell; Temple Mount Heritage Foundation chairman Rabbi Yehuda Glick; International House of Prayer director Mike Bickle; Many other Christian leaders from Israel, Egypt, Turkey, Lebanon, Syria and the United States. Running Time: Appox. 70 minutes. DVD Region Code 1 (U.S. & Canada)
More DVDs and Books by Joel Richardson
---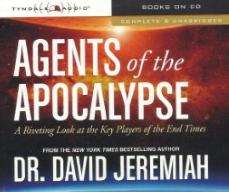 AGENTS OF THE APOCALYPSE - Set of 8 Unabridged Audio CDs
A Riveting Look at the Key Players of the End Times

Dr. David Jeremiah, 2014


$23.95
Retail $26.99
Ships within
24 hours!


Are we living in the end times? What if the players depicted in the book of Revelation were out in force today? And if they were, would you know how to recognize them? In Agents of the Apocalypse, noted prophecy expert Dr. David Jeremiah does what no Bible teacher has done before. He explores the book of Revelation through the lens of its major players: the exile, the martyrs, the 144,000, the two witnesses, the dragon, the beast from the earth, the beast from the sea, the Victor, the King, and the Judge.
Skillfully crafted to engage both the heart and the mind, each chapter opens with an engaging, biblically based dramatization that brings prophecies to life as never before. As Dr. Jeremiah presents these agents in the context of their unique times and places in the end times, he weaves a rich tapestry of the temperaments, motives, and conspiracies that Scripture tells us will precipitate earth's final days. Then, in each chapter, Dr. Jeremiah provides a detailed study called "The Scripture behind the Story", which explores some of Revelation's most cryptic passages, explaining how to interpret them and--most important--how they apply to the malevolent forces at play in the world today. Set of 8 unabridged audio CDs. Read by Todd Busteed. Approximately 527 minutes.
Also available in Hardcover Book.
---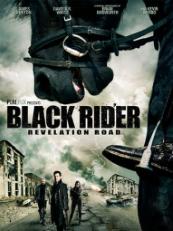 THE BLACK RIDER: Revelation Road 3 - DVD

Pure Flix Entertainment, 2014


$13.95
Retail $14.99
DVD
Ships within
24 hours!


The Rapture has come and gone, in it's wake is a famished wasteland filled with desperate scavengers and viscous bandits. Josh McManus (DAVID A. R. WHITE), a quiet drifter with a knack for fighting, finds himself in a dangerous border-town at the edge of the Wild Lands. The beleaguered local Mayor (JAMES DENTON) sends Josh on a vital mission to find the mysterious "Shepherd" (ROBERT GOSSETT). Is the Shepherd a true man of God or only a cult leader? With the aid of Sofia, a beautiful survivor (HILTY BOWEN), Josh will discover the truth in an action-packed adventure that will put his skills and his faith to the test. Also starring KEVIN SORBO as Honcho, the outlandish local lord of thieves. With special appearance by BRUCE MARCHIANO. Closed Captioned. Special Features: Bloopers, Behind the Scenes, Trailers. DVD Region Code 0 (Worldwide)
More DVDs in the Revelation Road Series
---
GOD'S FINAL JUBILEE - Set of Six DVDs
Prophecy Conference
Dan Goodwin, 2014


$29.95
Retail $34.99
Ships within
24 hours!


The most up to date study of prophetical events of our day! These sermon DVD's were preached at Immanuel Baptist Church, Harlan, Kentucky. Includes:
Disc 1: Ten Proofs of a Pre-Trib Rapture - 45 minutes
Disc 2: A Wedding Made in Heaven - 48 minutes
Disc 3: Are we the last generation? - 68 minutes
Disc 4: The Seven Feasts of the Lord - 78 minutes
Disc 5: What in the world is going on? - 74 minutes
Disc 6: Seven pillars of Biblical History - 65 minutes
DVD Region Code 1 (U.S. & Canada)
Get God's Final Jubilee in Paperback
---
DICTATORS OF THE ILLUMINATI - DVD
Secrets of the Illuminati Series #13
Doc Marquis, 2014


$21.95
Retail $24.99
Ships within
24 hours!


In order to understand the present, you must examine the past, and only then you comprehend the future. Almost 6 years ago when Barak Obama entered the White House people have been saying, 'What is going on?', 'Obama is destroying everything,' 'None of this makes sense anymore.'Actually, it all makes perfect sense if you understand the plans and the inner dealings of the Illuminati. Barak Obama is following a very well-honed plan of the Illuminati, one that had also been meticulously followed by Lenin, Stalin, Mao Tse Tung, Fidel Castro, Adolf Hitler and other such dictators. This plan is so devious and deceitful that even with all of her media savvy, famed journalist, Barbra Walters said: "We thought that he (Obama) was going to be...the next messiah." National/International author, producer, lecturer and ex-Illuminati which, Doc Marquis takes us through the annals of history and reveals the origins of the Illuminati plan that past dictators had used to bring their nations under the subjugation of the Illuminati. Next, he will show how Obama is using the same Illuminati plan in the present time. And, then Doc will unveil how this same Illuminati plan will be used by the coming antichrist as found in the Book of Revelation. DVD Region Code 1 (U.S. & Canada)
More DVDs in the Secrets of the Illuminati Series
---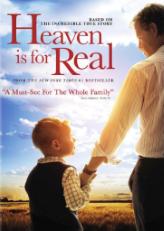 HEAVEN IS FOR REAL: The Movie - Blu-Ray & DVD

Sony Pictures, 2014


$29.95
Retail $30.99
DVD
Ships within
24 hours!


---
$37.95
Retail $41.99
Blu-Ray + DVD
2 Discs
Ships within
24 hours!


Based on the #1 New York Times best-selling book, Heaven is for Real recounts the true story of a small-town father who must find the courage and conviction to share his son's extraordinary, life-changing experience with the world. Starring Academy Award® nominee Greg Kinnear (Best Supporting Actor, As Good As It Gets, 1997) as Todd Burpo, the real-life father whose son Colton claims to have visited Heaven during a near death experience. Colton shares the details of his amazing journey with childlike innocence and speaks matter-of-factly about things that happened before his birth ... things he couldn't possibly know. 99 minutes. Rated: PG. Closed Captioned. Language: English. Subtitles: Cantonese, Chinese, English, Korean, French, Indonesian/Bahasa, Spanish, Thai. Special Features: Colton Goes to Heaven, Deleted Scenes. Blu-Ray Exclusives: Creating Heaven, The Making of Heaven is for Real.DVD Region Code 1 (U.S. & Canada).
More Heaven is for Real Products


---
FALSE FLAG OVER BOSTON - DVD
Secrets of the Illuminati Series #12
Doc Marquis, 2014


$17.95
Retail $19.99
Ships within
24 hours!


On April 15, 2013 multiple explosions at the 'Boston Marathon Race' killed and injured hundreds; was this just another 'jihad by some radical Islamic group' or, is there more to what happened at Boston than our own government wants us to know? No one should doubt for a minute that the Boston Marathon was a 'False Flag' event carried out by the Illuminati. "Had the 'Illuminati Playing Cards' given forewarning to this event as they had with 9/11, the BP Oil Spill, and so many other events"? "Did the Illuminati have a hand in the Bonston Marathon Bombings and, if so, what evidence can be linked to them"? "Why were runners at the race being told that there would be a "Bomb Exercise" going on before the race even began"? "Police personal who lived and worked around Sandy Hook mysteriously show up in Boston. Why? They have no jurisdiction there...or do they"? "What was the secretive, private, civilian military group known as 'The Craft', with their 'Skull cap Logo', doing at the Boston Marathon Bombings"? These and so many other questions will be answered as Doc Marquis, once again, teams up with his Director Cory Black to unveil the "False Flag Over Boston". Running Time: 120 minutes. DVD Region Code 1 (U.S. & Canada)
More DVDs in the Secrets of the Illuminati Series
---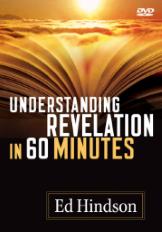 UNDERSTANDING REVELATION IN 60 MINUTES - DVD

Ed Hindson, 2014


$17.95
Retail $19.99
Ships within
24 hours!


From Bible prophecy expert Ed Hindson comes this remarkable 60-minute panoramic overview of one of the most mysterious books of the Bible, Revelation—a survey that's both fascinating and memorable! So much happens in Revelation that it's easy for readers to feel overwhelmed. In this helpful DVD presentation, Ed Hindson, who has written extensively on Bible prophecy, skillfully guides viewers toward a clear and useful grasp of Revelation's main events, characters, and predictions about the last days. This DVD will enable people to read the last book of the Bible with renewed appreciation and a much greater understanding of why it's so important to them. A wonderful resource that is great for use with church and home study groups. Includes 60-page Study Guide to View and Print! Running Time: 60 minutes. DVD Region Code 1 (U.S. & Canada)
---
BLOOD SACRIFICE - DVD
Thy Kingdom Come
Volume 2

William Schnoebelen, Mac Dominic, Dr. Stan Monteith & Cory Black, 2014


$19.95
Retail $24.99
Ships within
24 hours!


This video continues our study of the Biblical Antichrist by studying the life, the values, the attitudes and the Black Magick Satanism of Adolf Hitler. We will examine how thoroughly, easily, and quickly Hitler intimidated, and then completely controlled, most of German christian churches. Our supernatural adversary always has his counterfeit plan and counterfeit disciples, and nowhere in world history will this counterfeit plan be more perfect than during the time of Antichrist. Hitler envisioned that he would usher in a thousand year reich for the nation of Germany and believed that he was 'Selected by God to be Germany's Messiah'. Hitler was determined to eliminate any who resisted the evolution of the supermen, a purification that would be accomplished through fire. The christian church proved to be a soft target for Hitler. As one pastor later lamented, 'The Church made peace with an enemy with which it should have been at war. Called to warn and protect, it tolerated, then saluted, then submitted...' and stood by while perhaps the greatest sacrifice to appease the gods of darkness occurred in modern history. Speakers: William Schnoebelen, Mac Dominic, Dr. Stan Monteith, David Bay and Cory Black. Running Time: 90 minutes. DVD Region Code 1 (U.S. & Canada)
---
BLOOD MOONS RISING - Set of 4 Unabridged Audio CDs
Bible Prophecy, Israel, and the Four Blood Moons

Mark Hitchcock, 2014


$17.95
Retail $18.98
Ships within
24 hours!


Are the four blood moons a sign of the end times? In the years 2014 and 2015, four lunar eclipses, called "Blood moons," will occur during two significant Jewish festivals: Passover and the Feast of Tabernacles. Prophecy watchers have heralded this celestial phenomenon because it has occurred in the last millennium only at crucial times in the history of the Jewish people. Prophecy expert Mark Hitchcock will explore Bible prophecy, the history of Israel, and the phenomenon of the four blood moons. He'll take you on an in-depth tour of what the Bible says about the last days. He'll show you how current newspaper headlines are obvious signs of the coming of the end. Theh, he'll dissect whether the four blood moons fit into prophecy found in Scripture. Set of 4 unabridged audio CDs. Read by Tom Parks. Approximately 4.6 hours.
Also available in paperback book.
---
TOP | HOME
Copyright 1998-2014 by Cliffside Publishing House