WHERE IS THE UNITED STATES IN BIBLE PROPHECY? - DVD
Two Sessions

Joel Richardson, 2015


$14.95
Ships within
24 hours!


Join internationally recognized author and teacher Joel Richardson as he explores one of the most critical and pressing questions of our day: Where is the United States in Bible Prophecy?
In Session One, Joel examines several biblical passages that may in fact point to the United States involvement in the unfolding of the Bible's last days prophecies. Could it be that the biblical references to "the ships of Chittim," "the merchants of Tarshish," or even "the strongest of fortresses," are referring to the United States? Find out in this dynamic and beautifully presented teaching session.
In Session Two, Joel critically examines several biblical passages that many prophecy teachers have pointed to as referring to the United States. Is the United States referred to in Revelation 12 as the "wings of the great eagle" that will come to the assistance of Israel as she flees into the wilderness in the last days? Is the United States the Mystery Babylon of Revelation 17-18? Who are the seven shepherds of Micah chapter 5?
Find out the truth to all of these things, and discover how American Christians must respond to the unfolding financial, moral, and spiritual collapse of the United States. These are questions and issues that no one can afford to ignore. DVD Region Code 1 (U.S. & Canada).
---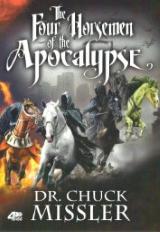 THE FOUR HORSEMEN OF THE APOCALYPSE - Set of Four DVDs

Dr. Chuck Missler, 2015


$44.95
Retail $49.95
Ships within
24 hours!


They have become a popular idiom even in secular literature, in connotative terms, of the 'End Times.' However, Biblically, they speak specifically of real events that will characterize an actual period of time that will appear in the future. Will that occur in our lifetime? How do we know? Do we need to prepare in some way? Or are there specific steps we should be taking? Join Dr. Chuck Missler from the Executive Briefing Room of the River Lodge, New Zealand, as he explores the Four Horsemen of the Apocalypse. This collection is approximately 8 hours and includes all of these great studies: Behold a White Horse: The Coming World Leader Behold a Red Horse: Wars and Rumors of Wars Behold a Black Horse: Economic Upheaval and Famine Behold a Livid Horse: Emergent Diseases and Biochemical Warfare. Set of Four DVDs: Running Time: 480 minutes. DVD Region Code 0 (Worldwide)
More DVDs on the Four Horsemen of the Apocalypse
---
GOD'S LOVING SOVEREIGNTY OF ISRAEL - DVD

David Bay, 2015


$14.95
Ships within
24 hours!


God's Pattern In Dealing With Israel Revealed - From Ancient Israel To Today. Warning to all haters of Israel and the Jews: You are fighting 'Mission Impossible', fighting against Omnipotent God! Many Christians either do not understand the historical miracle of Israel's rebirth or they mistakenly believe that the Jews are no longer God's Chosen People, that the re-establishment of Israel in 1948 has no prophetic significance. Historical fact records that Israel was out of her land for 1,900 years. Israel's land was controlled by a succession of Gentile powers during that long period of time. At this point, Israel should never have been expected to gain her land back, because no people who had ever been out their land for several hundred years had ever regained it. The rebirth of Israel in 1948 was truly an historically unprecedented miracle of God, accomplished against all historic odds. God foretold in many places in both the Old and New Testaments that He would tear Israel out her land if she refused to obey His commandments but then he repeatedly turned around and promised national restoration. Running Time: 55 minutes. DVD Region Code 1 (U.S. & Canada)
---
WHAT COMES NEXT IN THE MIDDLE EAST? - DVD
3 Sessions

Joel Richardson, 2015


$19.95
Ships within
24 hours!


Join internationally recognized teacher Joel Richardson as he examines some of the most revelant biblical prophecies and demonstrates how they are unfolding right now, in our day. In this dynamic DVD, featuring three sessions, you will learn not only about the next major wars about to erupt, but also the great last days Middle Eastern revival that is already beginning to sweep the region.
Session One: Recorded on the ground, in Kurdistan, northern Iraq. In this session, Joel examines the prophecy of Daniel 8, showing how this critical chapter may hold the key to understanding the next major wars of the last days.
Session Two: In this session, Joel explores the prophecy of Isaiah 19, showing how so many aspects of this oracle are beginning to unfold right now and how it will affect you.
Session Three: Finally, Joel concludes his examination of Isaiah 19, discussing the might last days prayer movement and revival that is now sweeping Egypt and the Middle East.
Running Time: Approx. 3 hours on one DVD. DVD Region Code 1 (U.S. & Canada).
---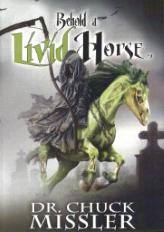 BEHOLD A LIVID HORSE - DVD
Emergent Diseases and Biochemical Warfare

Dr. Chuck Missler, 2015


$18.95
Retail $19.95
Ships within
24 hours!


Emergent Diseases and Biochemical Warfare are unleashed upon the world with the Fourth Horseman of the Apocalypse. Dr. Chuck Missler reveals startling facts concerning this climactic Fourth Horsemen and the unique role it plays in the End- Time Scenario.
Why are previously conquered diseases now making a comeback? How real is the threat of biological terrorism? Why is it more dangerous than chemical terrorism? Was the AIDS virus deliberately designed? By whom? And why? Consider the truth behind an bold agenda to control (and reduce) the world's population? By whom? And why? Who are the two riders associated with the Livid Horse? How do they differ? Running Time: 120 minutes. DVD Region Code 0 (Worldwide)
More DVDs on the Four Horsemen of the Apocalypse
---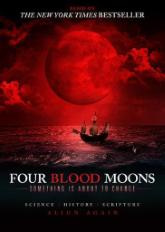 FOUR BLOOD MOONS - DVD
Something Is About To Change
(Based on the Best-Selling Book by John Hagee)

Capitol Christian Music Group, 2015


$18.95
Retail $19.99
Ships within
24 hours!


Four Blood Moons combines scripture, science, history and big-screen live action spanning centuries - exploring a rare lunar phenomenon that over the centuries has accompanied both tragedy and triumph for the Jewish people. From Pastor John Hagee's New York Times best-selling book of the same name (850,000 copies in print from Worthy Publishing), FOUR BLOOD MOONS debuted on March 23rd and again as an encore event on April 9th selling over 250,000 tickets in 700+ theaters across the country. It is rare when science, history and Scripture align, yet the last three series of "Four Blood Moons" have done exactly that. Are these the "signs" that God refers to in His Word? If they are, what do they mean? What is their significance for us today?
In his riveting and highly acclaimed book, Pastor John Hagee explores the supernatural connection of certain celestial events to biblical prophecy-and to the future of God's chosen people and to the nations of the world. Now comes the movie Four Blood Moons, produced by Rick Eldridge and directed by Academy Award(R) winner Kieth Merrill. These veteran filmmakers illustrate this fascinating phenomenon in a compelling docu-drama. Cinematic recreations of historical events from the United States, Israel and throughout the Middle East illustrate this story, along with expert testimonials from scientists, historians and religious scholars. Just as in biblical times, perhaps God is controlling the sun, the moon and the stars to send our generation a signal that something is about to change. The question is: Are we watching and listening for His message? 84 minutes. Closed-captioned. DVD Region Code 1 (U.S. & Canada).
---
WORLD WAR III - DVD
History's Greatest Lynchpin Event

David Bay, 2015


$14.95
Temporarily
Out of Stock


Bible prophecy reveals that Antichrist will be produced on the world scene by a number of signs, including 'wars and rumors of wars'. Demonic familiar spirits told the Elite in 1870 that three world wars will be needed to produce Antichrist. Make no mistake about it: Antichrist will be produced by World War III. Therefore, the question of the hour is, 'when will this global war begin' and 'what are the signs it is about to commence'? Many major events are planned to occur just as World War III begins. Mankind will be systematically hit with unparalleled disasters of every kind as this planned global war unfolds. But, none of these events will occur until the lynchpin called 'World War III' is pulled.
When the Global Elite pulls this lynchpin event called World War III, events are going to be unleashed in such severity and in such great numbers the peoples of the world will not stand in awe, they will panic and run for the hills. Jesus said that 'men's hearts shall fail them for fear', and the Elite is creating just such climactic events which shall not occur until the lynchpin known as 'World War III' is pulled. We will show you the 12 major disasters the Elite has created and is waiting only for the beginning of World War III to unleash them all, almost at once. No one need fear that any of these disasters will jump across the starting line ahead of time; each awaits the 'pulling of the lynchpin', World War III. Running Time: 60 minutes. DVD Region Code 1 (U.S. & Canada)
---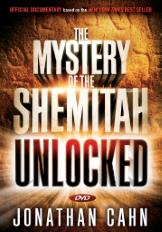 THE MYSTERY OF THE SHEMITAH UNLOCKED - DVD

Jonathan Cahn, 2015


$17.95
Retail $19.99
Ships within
24 hours!


Go deeper into the meaning and messages of The Mystery of the Shemitah with this DVD that uncovers one of the greatest mysteries of The Harbinger and other messages of Jonathan Cahn. Unlocking the Mystery of the Shemitah is a 60-minute documentary DVD based on Jonathan Cahn's newest book, The Mystery of the Shemitah, which defines the seven-year pattern that is essential for understanding the prophecy and mysteries of the Bible that are still applicable today, including:
How the Great Depression and other economic events fit into the Shemitah
How the pattern of sevens predicted 9/11 to the exact hour
How the World Trade Center was conceived, started, finished and destroyed in Shemitah years
How the rise—and possibly the fall—of America can be linked to the Shemitah
This fast-paced visual narrative reveals insights into the often misunderstood topic, including how the Shemitah years impact what lies ahead for the world and for your life. Running Time: 55 minutes plus bonus features. Closed Captioned. DVD Region Code 1 (U.S. & Canada)
More Products by Jonathan Cahn
---
TOP | HOME
Copyright 1998-2015 by Cliffside Publishing House