The items listed on this page are not yet available.
However, some items are available for pre-order at special pre-publication pricing.
We use Facebook and Twitter to quickly announce new releases.
---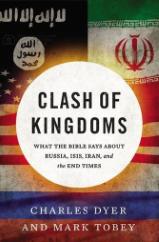 CLASH OF KINGDOMS
What the Bible Says About Russia, ISIS, Iran, and the End Times

Charles Dyer and Mark Tobey, 2017


$12.95
Retail $14.99
Release Date:
February 7, 2017


Available for pre-order with special discount pricing!
ISIS, Russia, and Iran are daily atop headlines and are among chief sources of intensifying unease among Americans about how current world conflicts will unfold. Using the Old Testament texts of prophets Ezekiel and Daniel as foundational passages, Bible experts Charles Dyer and Mark Tobey explain the connection between Bible prophecy and real-time events such as the growing alliance between Russia and Iran; the unsettling of the region as ISIS ravages countries and redraws boundaries; and the pull of Turkey and Saudi Arabia into the fray by Russian encroachment, Iranian meddling, and the United Statesí inability to create and lead a coalition. Simultaneously, Dyer and Tobey provide practical encouragement and spiritual principles for finding comfort, strength, and perspective in an unsettling time while laying out a strategy for responding out of faith rather than fear in the face of end times concerns. 144 pages, paperback.
More Books on the Prophecies of Ezekiel
---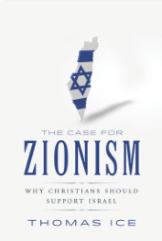 THE CASE FOR ZIONISM
Why Christians Should Support Israel

Thomas Ice, 2017


$12.95
Retail $14.99
Release Date:
February 20, 2017


Available for pre-order with special discount pricing!
The modern state of Israel has been a nation for almost 70 years. When she was formed and fought her early wars of existence, most Bible-believing Christians believed there was a real connection with what was going on in the Middle East and biblical prophecy that predicts an end-time return of the Jews to their land. Thomas Ice answers many of the contemporary arguments being used by both secular and religious communities to undermine what he believes is the hand of God at work in our own day. 240 pages, paperback.
---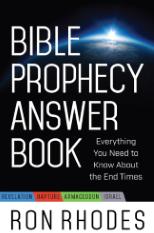 THE BIBLE PROPHECY ANSWER BOOK
Everything You Need to Know about the End Times

Ron Rhodes, 2017


$12.95
Retail $14.99
Release Date:
March 1, 2017


Available for pre-order with special discount pricing!
Strengthen your faith and find real hope for the future in this extensive resource that provides concise answers to your most burning questions about Bible prophecy and the end times. Topics include everything from how to interpret prophecy to clarifying the perplexing specifics of the rapture, the antichrist, and the afterlife. Respected Bible scholar Ron Rhodes addresses questions many are asking, such as...
Is it important that we be aware of the signs of the times?
Do Christians agree about the role of America in Bible prophecy?
Is there biblical evidence that the church will escape the tribulation period?
Will only believers enter into Christ's millennial kingdom?
In what way will the heavens and earth be made "new"?
Whether you're looking for quick instruction or you're eager to go deeper, this accessible Q&A-style guide will help you navigate prophetic Scripture passages and better understand matters of eternal significance. 256 pages, paperback.
---
THE BARBARIANS ARE HERE
Preventing the Collapse of Western Civilization in Times of Terrorism

Michael Youssef, 2017


$13.95
Retail $16.99
Release Date:
March 7, 2017


Available for pre-order with special discount pricing!
For decades, Americans were vaguely aware that Islamist barbarians were in the deserts of the Middle East and in the mountains of Afghanistan and Pakistan, executing "infidels" and raiding villages with unrecognizable names. But the Muslim world seemed far away, remote, and irrelevant to our daily lives. Then came the terrorist attacks of 9/11, followed by attacks at Fort Hood, the Boston Marathon, San Bernardino, and more. Now terrorists seem to be emerging everywhere, unleashing senseless death and destruction on our nation. They are here, and their goal is nothing less than global conquest. Motivated by ancient prophecies, they are flooding into Western countries determined to conquer our countries and establish a global Muslim caliphate. In The Barbarians Are Here, Dr. Michael Youssef provides clear insight into the motives and mission of the Islamic extremists. He offers practical steps we can take right now to begin a New Reformation that will restore the hope of Western civilization. It's not too late. We are not doomed to destruction, even though the barbarians are already here. But we haven't a moment to lose. 240 pages, paperback.
---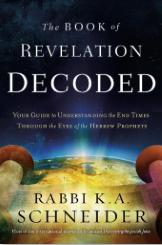 THE BOOK OF REVELATION DECODED
Your Guide to Understanding the End Times Through the Eyes of the Hebrew Prophets

Rabbi K.A. Schneider, 2017


$12.95
Retail $15.99
Release Date:
March 7, 2017


Available for pre-order with special discount pricing!
Rabbi K. A. Schneider decodes the Book of Revelation, showing how the end-time events prophesied in the New Testament book correspond with the teachings of the Torah and the Hebrew prophets. You will discover how the Passover foreshadows the great tribulation, and what the Hebrew prophets reveal about the anti-Messiah, Armageddon, hell, the return of the Messiah, the millennial kingdom, heaven, and much more. As the world grows darker and darker, many people have a sense of impending doom. This book will teach you what to expect during the last days and how to stand firm in Christ even in the face of opposition. 256 pages, paperback.
---
WHAT THE BIBLE SAYS ABOUT YOUR FUTURE
Biblical Prophecies for Every Believer

Dr. John F. Walvoord, 2017


$13.95
Retail $16.99
Release Date:
April 1, 2017


Available for pre-order with special discount pricing!
For readers of Tim LaHaye and John Hagee comes a thoughtful exploration of what happens in eternity. Relying on key biblical prophecies, renowned scholar Dr. John F. Walvoord explains what the Bible teaches about heaven and hell, how life on earth affects life in heaven, why God gives both judgment and grace, and how Christians can find comfort amid earthly suffering. What the Bible Says About Your Future opens a door for God to speak to readersí hearts and minds about their heavenly future. Here they will find hope in knowing that God cares deeply about themónow and forever. 208 pages, paperback.
More Books by John F. Walvoord
---
JERUSALEM COUNTDOWN
Expanded With Vital New Information

John Hagee, 2016


Retail $16.99
Release Date:
Postponed


Enhancing the message of the original edition which has sold more than 800,000 copies, John Hagee anticipates Israelís strategies toward the Iranian threat and the resulting effect upon America. Hagee skillfully unveils the reasons radical Islam and Israel cannot dwell peaceably together as he paints a convincing picture explaining why Christians must support the State of Israel. In this powerful 10th Anniversary edition you will discover:
The identities of the key players in a world-changing nuclear showdown
The role of Russia, China, Europe, and America in the coming nuclear war
Why Israelís war with Hezbollah was only a preview of coming events
Godís plan and purpose for His people in the coming crisis
Brand new chapter explains how recent events including the reelection of Benjamin Netanyahu set the stage for Israel's role in the end times
Events are happening so rapidly the headlines canít keep pace! Jerusalem Countdown offers prophetic insights you canít afford to ignore. 256 pages, paperback.
---
TOP | HOME
Copyright 1998-2017 by Cliffside Publishing House