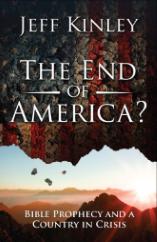 THE END OF AMERICA?
Bible Prophecy and a Country in Crisis

Jeff Kinley, 2017


$13.95
Retail $14.99
Ships within
24 hours!


Will God's Wrath Fall on America? What happens when a country glories in its immorality, turning away from faith in God and obedience to His commands? Jeff Kinley, author of As It Was in the Days of Noah, explores historical and biblical precedents for the demise of a nation and addresses pressing questions such as…How did we get to this point?Is America in Bible prophecy?Will Christians face widespread persecution here?What effect will the rapture have on America?How should I respond to the moral decline? This forthright survey of current events and trends offers valuable perspective on the future of America—as well as powerful motivation to embrace the only source of lasting hope. 256 pages, paperback.
More Information, Table of Contents, Author Profile
More Books on America in Prophecy
---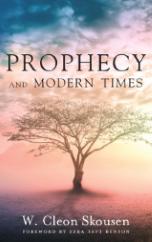 PROPHECY AND MODERN TIMES
Finding Hope and Encouragement in the Last Days

W. Cleon Skousen, 2017


$15.95
Retail $16.95
Ships within
24 hours!


Have you ever wondered what the ancient prophets had to say about the modern world? How to apply the messages of the scriptures to your own life? What the true purpose of prophecy is? Find these answers and more in Prophecy and Modern Times: Finding Hope and Encouragement in the Last Days, a brief but powerful exploration of six millennia worth of prophecies about society today. The prophets of Biblical times foresaw many of the complexities of the modern era with remarkable accuracy--conflicts in the Middle East and America, the rise of enormous economic and military powers, and the stealthy corruption of nations and personal lives. Throughout history, prophecies have been "fulfilled literally," as Skousen writes, shedding important light on how God communicates and how to interpret His messages in today's world. Through years of careful research and with a reporter's dedication to the truth, Skousen beautifully distills these many ancient warnings and promises into one clear, fascinating volume, providing a deeper understanding of the scriptures for a new generation. 155 pages, paperback, index.
More Information, Table of Contents, Author Profile
---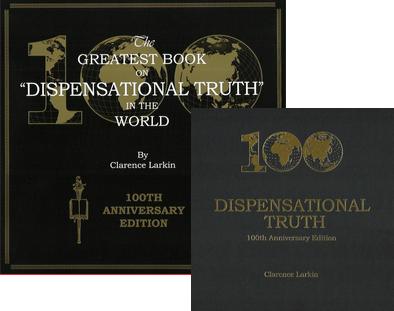 THE GREATEST BOOK ON "DISPENSATIONAL TRUTH" IN THE WORLD
100th Anniversary Edition
2017 Printing
Clarence Larkin, 1918, 1920


$46.95
Ships within
24 hours!


This is Larkin's famous book on dispensationalism that includes his beautifully-drawn black and white charts published as a special 100th Anniversary Edition. Book is approximately 10 X 10 inches with a black hardcover stamped "Dispensational Truth" in gold lettering. The dust cover shows the book's complete title, The Greatest Book on Dispensational Truth in the World. This is the much sought-after high-quality edition published by the Clarence Larkin Estate. A must-have book for any student of prophecy. 176 pages, hardcover, over 100 charts, maps, woodcuts.
More Information, List of Charts, Sample Charts, List of Woodcuts
More Books by Clarence Larkin


---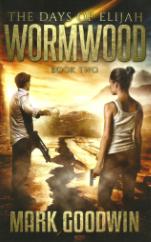 THE DAYS OF ELIJAH - Book Two: Wormwood

Mark Goodwin, 2017


$18.95
Ships within
24 hours!


Everett and Courtney Carroll have survived the Seven Seal Judgments which devastated the planet through a global earthquake and a massive bombardment of meteors. The cities of the earth lie in ruin and much of the globe's forests have been destroyed by widespread forest fires. But have their efforts to stay alive been in vain? The next series of judgments to fall upon the earth are known as the Seven Trumpets. Within this series of cataclysms is the earth's collision with a giant asteroid, known as Wormwood. The comet will poison much of the planet's fresh water supplies, making survival near impossible. Undeterred by the global chaos, the supreme leader of the Global Republic, Angelo Luz, pushes forward with his plans to eradicate his empire of dissenters. In the midst of the mayhem, he sends forth his armies to wipe out the remnant of true Christians as well as the growing number of Messianic Jews. With each subsequent Trumpet Judgement and every passing day their odds of living grow slimmer. If Everett and Courtney are to survive, they'll need perseverance, faith, and a great outpouring of providence from The Almighty. 300 pages, paperback.
---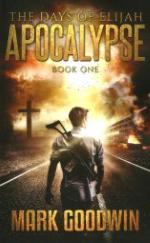 THE DAYS OF ELIJAH - Book One: Apocalypse

Mark Goodwin, 2016


$18.95
Ships within
24 hours!


After a massive wave of disappearances, twenty-six-year-old CIA analyst, Everett Carroll, finally believes what he's been told about the biblical prophecy of the rapture. But will he be able to survive the gauntlet of destruction known as the Great Tribulation? Seven seals, seven trumpets and seven vials of God's wrath are about to be poured out upon the earth, and woe to the inhabitants thereof! Global currencies have collapsed, famine and plague have claimed the lives of millions, and the world has crumbled into chaos. The only reason Everett and his girlfriend, Courtney, have survived the mayhem is because they were warned by John Jones, Everett's recently deceased boss, that all of these tragedies would occur. And what's more, through his inside knowledge at the agency, mixed with his interpretation of prophecy, Jones predicted that a world leader would ride in on a white horse to fix the ills of the planet. But who is this leader and what is his motivation for mandating the new identification implant and the global cashless currency? Everett is surprised when he finds out that Elijah, the Messianic Jewish hermit who lives on the mountain above their retreat, did not disappear along with the rest of the Christians. When he tells Everett of a special mission that God has given him, the old prophet gives Everett more questions than answers. 300 pages, paperback.
---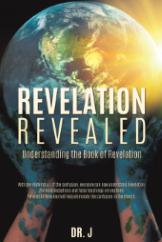 REVELATION REVEALED
Understanding the Book of Revelation

Dr. J, 2017


$14.95
Retail $15.99
Ships within
24 hours!


With the elimination of the confusion, everyone can now understand Revelation. The miconceptions and false teachings are exposed. Revelation Revealed will help eliminate the confusion the church has been trying to deal with since Jesus turned His teachings over to the disciples. Learn when the "Day of the Gentile" ended. The rapture has taken place and everyone has been left behind. The tribulation has begun, and will last much longer than the seven years the church has been teaching. How will the seals, the trumpets, and the vials affect us? What is the real reason all this terror on mankind supposed to prove? What happended to God's grace? Why do we have to suffer through these trials and tribulations when we have been good Christians? Just what is the millennium and just when does it happen? Just what is the White Throne Judgment and who is it that is to be judged? Now that the book of Revelation is no longer sealed, we can ascertain the proper interpretation. Now we can make sense of the things it tells us. Revelation Revealed now puts revelation in chronological order and explains what will happen and why. 247 pages, paperback, appendix, index.
More Information, Contents, Author Profile
More Revelation Studies
---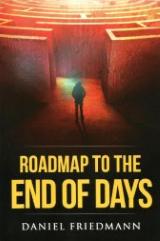 ROADMAP TO THE END OF DAYS
Demystifying Biblical Eschatology to Explain the Past, the Secret to the Apocalypse and the End of the World

Daniel Friedmann, 2017


$15.95
Ships within
24 hours!


Is history a purposeful process with a beginning and an end, or is it a random series of events with neither purpose nor direction? If history is a guided process, are we near the end of the world?Have we almost completed preparations for the End of Days? What will happen next? When? Are we backseat passengers in this journey, or are we in the driver's seat? Daniel Friedmann takes you on a journey to discover what is really going on with Biblical eschatology and the end of the world, and to then glimpse the future and ponder the role you will play in it. History is a discipline that uses a narrative to examine and analyze a sequence of past events and to objectively postulate the patterns of cause and effect that determined them. Friedmann looks at history from the supernatural perspective. Every plan becomes suddenly evident when enough of it has played out. Have we reached the point in history where the Divine Plan of history is apparent? Read Roadmap to the End of Days and discover what is really going on, then glimpse the future and ponder the role you will play. 180 pages, paperback, appendix, index.
More Information, Contents, Author Profile
More Books offering Alternative End-Time Theories
---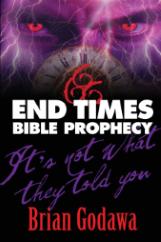 END TIMES BIBLE PROPHECY
It's Not What They Told You

Brian Godawa, 2017


$18.95
Ships within
24 hours!


What does the Bible really say about the last days? Many Christians teach outrageous speculation about End Times Bible prophecy these days. It's enough to frustrate the serious Bible student. What if you found out most of it is simply mistaken? What if you found out that the ancient Jewish writers were using Old Testament imagery of the past, not a crystall ball gaze into our modern future? What if you found out that everything that modern prophecy pundits are look for - the Rapture, the Tribulation, the Antichrist, The Beast - was not what they told you it was, but something different? 173 pages, paperback. View: Preterist.
More Information, Table of Contents, Author Profile
---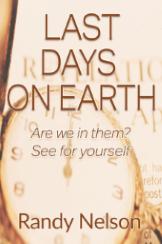 LAST DAYS ON EARTH
Are We In Them? See For Yourself

Randy Nelson, 2017


$16.95
Retail $17.99
Ships within
24 hours!


What on God's Green Earth is About to Happen? Are we living in the last days? How can we know? And if so, what does that mean, and what's next? If you have asked yourself those questions, you are not alone. To many of us, this is a scary time to be alive. It seems that every newscast raises more questions about where we are headed. Jesus said, "Let not your heart be troubled..." When God's messenger angels appeared to people in scripture, they always said, "Fear not." Fear is based on uncertainty. However, everything about God's plan is certain. This book is like a "spiritual GPS!" In it, author Randy Nelson takes us on a guided tour through the days and events to come. He unveils God's Exciting end-time plan and our place in it. Jump in, you'll be glad you did. 255 pages, paperback.
More Information, Table of Contents, Author Profile
---
DISCERNING OUR TIME
A Layman's Guide About America in End Time Prophecy

Richard Bettez, 2017


$13.95
Retail $14.95
Ships within
24 hours!


Discerning Our Time: A Layman's Guide About America in End Time Prophecy is a compelling look at historic and political trends that push the reader to look upon biblical facts as to where America fits in concerning future events. This book is an easy read for people of all backgrounds and education levels. It is a breakdown of exactly what scripture means from original language to historical settings that all connect to American society as we know it today. Though this book gives greater enlightenment to the Christian community and is a solid resource for pastors to draw from, it will truly be an eye-opening experience for the open-minded unbelievers or those who do not consider Christianity of any consequence within their lives. The changes within American society and our culture as well as our political choices are highlighted within the word of God. In this book they are accurately brought out. Church denominations are put to the test as historical truths are revealed and many falsehoods about Christianity are dispelled. Truth about American education, business, and government are documented with the light of scripture shining right next to the facts so the reader can judge for themselves. Many teachers, pastors, and theologians don't believe America plays a significant role in the end times. Some teach that it will be wiped off the map. No one truly knows exact dates or for that matter what the antichrist will look like, but there is a definite template laid out within the Bible; America fits comfortably in that template. This book is a must-read if you are interested in what direction America is heading and who will rise to power in the near future. 225 pages, paperback.
More Information, Contents, Author Profile
More Books on America in Prophecy
---
THE RAPTURE: A Pre- or Post-Tribulation Event?

Colleen Wandmacher, 2017


$21.95
Ships within
24 hours!


God tells us not to be deceived about the timing of our being caught up to meet Jesus in the air, an event Christians refer to as the rapture. He would not have said that unless there was going to be an avalanche of false teaching with regard to the timing of the rapture in the sequence of end-time events. Diligently studying pertinent scriptures in God's Word is the only way one can be free of deception and be spiritually prepared for the times that may befall us. This book helps the reader to deeply study the Word of God to see the truth. Chapter after chapter leads to the same conclusion—the rapture will be a post-tribulation event. 125 pages, large format paperback.
More Information, Table of Contents, Author Profile
More Books on the Rapture Debate
---
THE COMING APOSTASY
Exposing the Sabotage of Christianity From Within

Mark Hitchcock & Jeff Kinley, 2017


$14.95
Retail $15.99
Ships within
24 hours!


The Bible warns us that the last days will be tumultuous. In our age, the world seems to be spinning out of control, creating fear, confusion, and uncertainty. In addition to violence, pestilence, and epidemics, the Bible predicts a great "falling away" from God in the end times. Bible teachers call it "the great apostasy." Are we seeing evidence today in the church of this massive rejection of sound teaching? Bestselling authors Mark Hitchcock and Jeff Kinley team up to examine alarming trends from the teachers of our time. Are today's teachers simply telling people what they want to hear, as the Bible clearly predicts? The great apostasy is coming, but is it closer than we imagine? Let Mark and Jeff be your steady guides to the difficult days ahead. 205 pages, paperback.
More Information, Table of Contents, Author Profile
More Books by Mark Hitchcock
---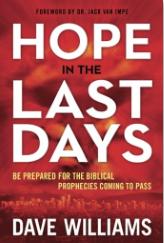 HOPE IN THE LAST DAYS
Be Prepared for the Biblical Prophecies Coming to Pass

Dave Williams, 2017


$14.95
Retail $15.99
Ships within
24 hours!


Understand how ancient biblical prophecies are coming to pass in our day, how coming prophetic events will impact you, and how there is hope for all followers of Christ.
We are approaching eternity at breakneck speed. We live in the very first generation to see all the end-time signs converging. The apocalyptic storm clouds foretold by the ancient biblical prophets are now arriving, and the hearts of people everywhere hunger to know more about the coming events. Hope in the Last Days will walk you through the end-time prophecies, helping you prepare for what is about to transpire on the earth. What you believe about prophecy will dramatically affect your future, the way you live your life, and how you prepare for what lies ahead. If you thought the past was intense, get ready for the future. 200 pages, paperback, bibliography.
More Information, Table of Contents, Author Profile
---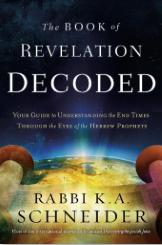 THE BOOK OF REVELATION DECODED
Your Guide to Understanding the End Times Through the Eyes of the Hebrew Prophets

Rabbi K.A. Schneider, 2017


$14.95
Retail $15.99
Ships within
24 hours!


Rabbi K. A. Schneider decodes the Book of Revelation, showing how the end-time events prophesied in the New Testament book correspond with the teachings of the Torah and the Hebrew prophets. You will discover how the Passover foreshadows the great tribulation, and what the Hebrew prophets reveal about the anti-Messiah, Armageddon, hell, the return of the Messiah, the millennial kingdom, heaven, and much more. As the world grows darker and darker, many people have a sense of impending doom. This book will teach you what to expect during the last days and how to stand firm in Christ even in the face of opposition. 238 pages, paperback.
More Information, Table of Contents, Author Profile
More Revelation Studies
---
WHAT THE BIBLE SAYS ABOUT YOUR FUTURE
Biblical Prophecies For Every Believer

John F. Walvoord, 2017


$15.95
Retail $16.99
Ships within
24 hours!


For readers of Tim LaHaye and John Hagee comes a thoughtful exploration of what happens in eternity. Relying on key biblical prophecies, renowned scholar Dr. John F. Walvoord explains what the Bible teaches about heaven and hell, how life on earth affects life in heaven, why God gives both judgment and grace, and how Christians can find comfort amid earthly suffering. What the Bible Says About Your Future opens a door for God to speak to readers' hearts and minds about their heavenly future. Here they will find hope in knowing that God cares deeply about them—now and forever. 203 pages, paperback.
More Information, Table of Contents, Author Profile
More Books by John F. Walvoord
---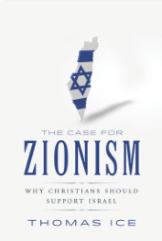 THE CASE FOR ZIONISM
Why Christians Should Support Israel

Thomas Ice, 2017


$13.95
Retail $14.99
Ships within
24 hours!


The modern state of Israel has been a nation for almost 70 years. When she was formed and fought her early wars of existence, most Bible-believing Christians believed there was a real connection with what was going on in the Middle East and biblical prophecy that predicts an end-time return of the Jews to their land. Thomas Ice answers many of the contemporary arguments being used by both secular and religious communities to undermine what he believes is the hand of God at work in our own day. 220 pages, paperback.
More Information, Table of Contents, Author Profile
More Books by Thomas Ice
---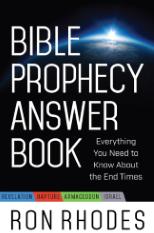 THE BIBLE PROPHECY ANSWER BOOK
Everything You Need to Know about the End Times

Ron Rhodes, 2017


$13.95
Retail $14.99
Ships within
24 hours!


Strengthen your faith and find real hope for the future in this extensive resource that provides concise answers to your most burning questions about Bible prophecy and the end times. Topics include everything from how to interpret prophecy to clarifying the perplexing specifics of the rapture, the antichrist, and the afterlife. Respected Bible scholar Ron Rhodes addresses questions many are asking, such as...
Is it important that we be aware of the signs of the times?
Do Christians agree about the role of America in Bible prophecy?
Is there biblical evidence that the church will escape the tribulation period?
Will only believers enter into Christ's millennial kingdom?
In what way will the heavens and earth be made "new"?
Whether you're looking for quick instruction or you're eager to go deeper, this accessible Q&A-style guide will help you navigate prophetic Scripture passages and better understand matters of eternal significance. 250 pages, paperback.
More Information, Table of Contents, Author Profile
More Books by Ron Rhodes
---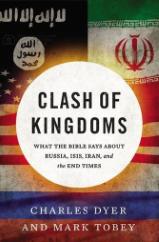 CLASH OF KINGDOMS
What the Bible Says About Russia, ISIS, Iran, and the End Times

Charles Dyer and Mark Tobey, 2017


$13.95
Retail $14.99
Ships within
24 hours!


ISIS, Russia, and Iran are daily atop headlines and are among chief sources of intensifying unease among Americans about how current world conflicts will unfold. Using the Old Testament texts of prophets Ezekiel and Daniel as foundational passages, Bible experts Charles Dyer and Mark Tobey explain the connection between Bible prophecy and real-time events such as the growing alliance between Russia and Iran; the unsettling of the region as ISIS ravages countries and redraws boundaries; and the pull of Turkey and Saudi Arabia into the fray by Russian encroachment, Iranian meddling, and the United States' inability to create and lead a coalition. Simultaneously, Dyer and Tobey provide practical encouragement and spiritual principles for finding comfort, strength, and perspective in an unsettling time while laying out a strategy for responding out of faith rather than fear in the face of end times concerns. 118 pages, paperback.
More Information, Table of Contents, Author Profiles
More Books on the Prophecies of Ezekiel
---
THE BARBARIANS ARE HERE
Preventing the Collapse of Western Civilization in Times of Terrorism

Michael Youssef, 2017


$15.95
Retail $16.99
Ships within
24 hours!


For decades, Americans were vaguely aware that Islamist barbarians were in the deserts of the Middle East and in the mountains of Afghanistan and Pakistan, executing "infidels" and raiding villages with unrecognizable names. But the Muslim world seemed far away, remote, and irrelevant to our daily lives. Then came the terrorist attacks of 9/11, followed by attacks at Fort Hood, the Boston Marathon, San Bernardino, and more. Now terrorists seem to be emerging everywhere, unleashing senseless death and destruction on our nation. They are here, and their goal is nothing less than global conquest. Motivated by ancient prophecies, they are flooding into Western countries determined to conquer our countries and establish a global Muslim caliphate. In The Barbarians Are Here, Dr. Michael Youssef provides clear insight into the motives and mission of the Islamic extremists. He offers practical steps we can take right now to begin a New Reformation that will restore the hope of Western civilization. It's not too late. We are not doomed to destruction, even though the barbarians are already here. But we haven't a moment to lose. 226 pages, paperback.
More Information, Table of Contents, Author Profile
More Books on Terrorism
---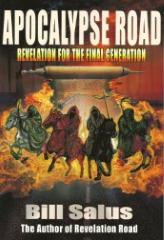 APOCALYPSE ROAD: A Novel
Revelation for the Final Generation

Bill Salus, 2017


$17.95
Retail $19.95
Ships within
24 hours!


Enjoy a thrilling novel and a Bible commentary.
Millions of Christians disappeared, apparitions of the Virgin Mary have reappeared, meanwhile the Antichrist begins his beastly career. The apocalypse has finally arrived! Israelis, Lisa and her daughter Jami, have been left behind! Follow their perilous journey in the mysterious time gap that follows the Rapture, but precedes the Tribulation period. Walk in their shoes as they befriend some of the 144,000 Witnesses and face off with the epic Ezekiel 38, Gog of Magog invasion. See through their eyes how the Harlot of Mystery Babylon uses supernatural signs and wonders to rule the world. You will also discover the identities of the two parties of the false covenant and its true content, which starts the rebuilding of the Jewish Temple and triggers the treacherous seven-years of tribulation. It's all stage setting right now before our eyes!
Apocalypse Road, Revelation for the Final Generation, is the long-awaited sequel to Revelation Road, Hope Beyond the Horizon. If you enjoyed the Left Behind books, you will appreciate the biblical explanations provided in Apocalypse Road... 403 pages, paperback, appendices.
More Information, Table of Contents, Author Profile
Get Apocalypse Road Companion DVD
More End-Time Novels
---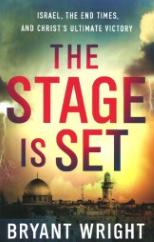 THE STAGE IS SET
Israel, The End Times, and Christ's Ultimate Victory

Bryant Wright, 2017


$14.95
Retail $15.99
Ships within
24 hours!


Even a cursory glance at the news is enough to convince us that the world is falling into chaos. But God is still in control of his creation--and he keeps his promises. In fact, he has a sovereign plan that includes ultimate victory for the church and the salvation of His people, Israel. The Stage is Set carefully illuminates the signs of the times that point toward Christ's glorious appearing and millennial reign, answering questions you have about the identity of the antichrist, the future of Israel, the location of Armageddon, and more. He is coming. Soon. And his people must be ready. Are you? 236 pages, paperback.
More Information, Table of Contents, Author Profile
---
MYSTERY BABYLON: Unlocking the Bible's Greatest Prophetic Mystery

Joel Richardson, 2017


$23.95
Retail $25.95
Ships within
24 hours!


New York Times bestselling author Joel Richardson carefully explores what is arguably the greatest prophetic mystery in all of the Bible. Mystery Babylon is an in-depth look at the prophecy of Revelation 17 and 18. Richardson dissects the longest prophecy in the New Testament the final chapters of the Bible in order to make sense of these deeply elusive and profoundly controversial passages. At once a queen, a prostitute, and a cold-blooded killer, this great harlot waves a golden cup filled with blood. Adorned in purple and scarlet and gold and precious stones, she seduces the kings of the earth with luxury. Most commonly known, perhaps, is that she rides a beast with seven heads and ten horns. Her title is Mystery, Babylon the Great, the mother of all harlots and of the abominations of the earth. From the early days of Christianity, believers have struggled to understand the mystery of the great harlot. Scholars and students alike have arrived at many different conclusions. In his characteristically easy-to-understand style, Richardson works through the history of Christian interpretation of Mystery Babylon, weighing the strengths and weaknesses of each view, making a powerful case for a solution to this prophecy that will rock the prophecy world. 301 pages, hardcover, index.
More Information, Table of Contents, Author Profile
More Books by Joel Richardson
---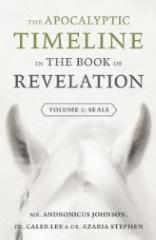 THE APOCALYPTIC TIMELINE IN THE BOOK OF REVELATION
Volume 1: Seals

Mr. Andronicus Johnson, Dr. Caleb Lee & Dr. Azaria Stephen, 2016


$17.95
Retail $18.99
Ships within
24 hours!


Is Revelation an impossible book to tackle? Do you still believe the seven seals are yet to be fulfilled in the distant future? The Lord says, "Blessed are those who take to heart what is written in it." If Revelation is enigmatic, how could anyone keep the things written therein? This book exhibits unmistakable clues in Revelation to unlock the interpretations of already-familiar events in history: - Mongol Invasion by Genghis Khan (13C), Black Death (14C), Religious Reformation (16, 17C), and others. The Author of history revealed them all, long before they happened! In The Apocalyptic Timeline in the Book of Revelation, you will discover that:
Revelation is easy to comprehend.
Each seal has a clear start and finish, and corresponds to a historic event.
All the seals have opened already.
"Look up, and lift up your heads" (Luke 21:28) and aspire to be raptured. 262 pages, paperback.
More Information, Table of Contents, Author Profiles
More Revelation Studies
---
TOP | HOME
Copyright 1998-2017 by Cliffside Publishing House