Home
About Us
FAQ
Privacy Policy
Contact Us
Books
DVDs
VHS
Charts
Audio Books
General Information
Secure Order Form
Mail & Fax Orders
Shipping Rates

Mastercard
Visa, Discover
* * *
Phone Toll Free:
1-877-577-8743
within U.S.A.
* * *
International
1-336-246-2663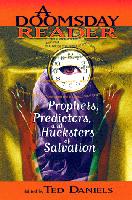 A DOOMSDAY READER: Prophets, Predictors, and Hucksters of Salvation

Ted Daniels, editor, 1999


$34.95
Ships within
24 hours!


Daniels has been collecting prophetic material from more than twelve hundred print and electronic sources since 1992. He lets the prophets speak for themselves. He's compiled an array of prophetic material from original sources: Communist Manifesto, Mein Kampf, World Scientists' Warning to Humanity, The Protocols of the Elders of Zion, The Turner Diaries, and others.

---
TABLE OF CONTENTS
Acknowledgments
Introduction
Millennialsim in World Religions

PART I Enlightenment and the Secular Millenarianism

Marxism
From The Communist Manifesto
Nazism: Adolf Hitler and Mein Kampf
From Mein Kampf
Environmentalism, Politics, and Progress
World Scientists' Warning to Humanity

PART II Millennial Evil

A Royalist Apocalypse: The Protocols of the Learned Elders of Zion
From The Protocols of the Learned Elders of Zion
Myths of Power: Conspiracies, Revenge, and The Turner Diaries
From The Turner Diaries
The New World Order
Mission Statement of the Council on Foreign Relations

PART III Well-Known Contemporary Movements

The Branch Dividians
Chapter 1: The First Seal
The Order of the Solar Temple
Final Message to All Those Who Can Still Understand the Voice of Wisdom
Aum Shinri Kyo and the Politics of Terror
The World after the Final War
The Montana Freemen
Our De Jure Country Government Pursuant to the World of Almighty God
Comet Hale-Bopp, Planet Nibiru, the Mass Landing, and Heaven's Gate
Crew from the Evolutionary Level above Human Offers-Last Chance to Advance beyond Human

The End

Works Cited
Index
About the Author
---
AUTHOR PROFILE
Ted Daniels is a folklorist and the author of Millennialsim: An International Bibliogrpahy. He is also the founder and director of the Millennium Watch Institute, a clearinghouse on ideas of global change and the people who promote them. The institute's collection of prophetic and predictive ephemera is housed at the University of Pennsylvania.

---
BOOK SPECIFICATIONS
251 pages, paper, bibliography, index
ISBN 0814719090