Home
About Us
FAQ
Privacy Policy
Contact Us
Books
DVDs
VHS
Charts
Audio Books
General Information
Secure Order Form
Mail & Fax Orders
Shipping Rates

Mastercard
Visa, Discover
* * *
Phone Toll Free:
1-877-577-8743
within U.S.A.
* * *
International
1-336-246-2663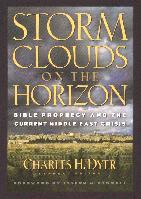 STORM CLOUDS ON THE HORIZON
Bible Prophecy and the Current Middle East Crisis

Charles Dyer, General Editor, 2001



Find out what's happening in the Middle East today and learn how those events are linked to key biblical prophecies.
Why is Israel constantly in the news today?
What does the Bible say about Israel's past and future?
How does God's plan for the church differ from His plan for Israel?
Why can't the United Nations bring peace to earth?
Is the United States mentioned in Bible prophecy?
Written by these biblical scholars from the Moody Bible Institute: Dr. Michael Rydelnik, Dr. Louis A. Barbieri, Dr. William H. Marty, Dr. Charles H. Dyer, and Dr. Robert C. Smith.

---
TABLE OF CONTENTS
FOREWORD - Israel My Glory by Dr. Joseph M. Stowell
Israel: The Linchpin in God's Program for the Future
Dr. Michael Rydelnik
The Church: Watching for Our "Blessed Hope"
Dr. Louis A. Barbieri
The Nations in Transition: The Shape of the Final Superpower
Dr. William H. Marty
Jerusalem: The Eye of the Storm
Dr. Charles H. Dyer
Practical Advice for Perilous Times
Professor Robert C. Smith
---
EDITOR PROFILE
Dr. Charles Dyer (B.A., Washington Bible College, Th.M., Th.D. Dallas Theological Seminary) has traveled extensively in the Middle East and is a licensed guide in Israel. He has authored, co-authored, and co-edited many books including The Rise of Babylon, World News and Bible Prophecy, and A Christian Traveler's Guide to the Holy Land. He and his wife, Kathy, live in Schereville, Indiana and are the parents of two children.

---
BOOK SPECIFICATIONS
91 pages, paper
ISBN 0802409482