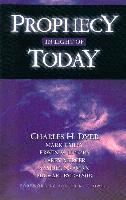 PROPHECY IN LIGHT OF TODAY

Dr. Charles H. Dyer, et. al., 2002



Using recent events as a springboard, this collection of powerful messages will guide you through various aspects of God's plan for this world with one central theme - God is in control! Authors include: Dr. Charles Dyer, Dr. Mark Bailey, Dr. Erwin Lutzer, Dr. Larry Mercer, Dr. Samuel Naaman, and Dr. Michael Rydelnik. 128 pages, paper.
---
TABLE OF CONTENTS
FOREWORD: THE NEW 911
Dr. Joseph M. Stowell
President, Moody Bible Institute
CHAPTER 1: A PEACE TO END ALL PEACE
Dr. Charles H. Dyer
Senior Vice President of Education and Provost, Moody Bible Institute
CHAPTER 2: GROUND ZERO
Dr. Michael Rydelnik
Professor of Jewish Studies, Moody Bible Institute
CHAPTER 3: THE FUTURE OF ISLAMIC FUNDAMENTALISM
Dr. Samuel Naaman
Professor of Islamic Studies, Moody Bible Institute
CHAPTER 4: WHEN ALL HELL BREAKS LOOSE
Dr. Erwin W. Lutzer
Senior Pastor, Moody Church
CHAPTER 5: FROM HERE TO ETERNITY
Dr. Mark L. Bailey
President, Dallas Theological Seminary
CHAPTER 6: HOW SHOULD WE THEN LIVE?
Dr. Larry Mercer
Senior Vice President of Media, Moody Bible Institute

---
BOOK SPECIFICATIONS
128 pages, paper
ISBN 0802413579