Home
About Us
FAQ
Privacy Policy
Contact Us
Books
DVDs
VHS
Charts
Audio Books
General Information
Secure Order Form
Mail & Fax Orders
Shipping Rates

Mastercard
Visa, Discover
* * *
Phone Toll Free:
1-877-577-8743
within U.S.A.
* * *
International
1-336-246-2663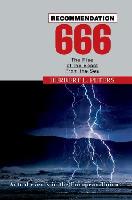 RECOMMENDATION 666
The Rise of the Beast From the Sea

Herbert L. Peters, 2003



What if I said that an important warning sign about the rise of the Antichrist began occurring in 1992, but it has been completely overlooked? And what if I told you that the 10 kings of Daniel and Revelation may have already been on scene since 1995, but no one has noticed? Not only that, but a powerful new office has been created that could soon belong to the Antichrist. And, it happened with Assembly Recommendation 666. Hang on, because that's exactly what I'm going to tell you.

---
TABLE OF CONTENTS
Introduction
Joe Prophecy and His Six Misconceptions
Eight Keys to Unlocking the Prophecies
A Quick Look at Revelation
Using the Keys to Unlock the Signs
Apocalypse Now?
The First Overlooked Sign: The 1992 Israeli Election
Now Appearing, Those 10 Horns of the Bible Prophecy
Introducing Mr. Europe
No Club Like Rome
Solana's Cool Coup
The Second Overlooked Sign: Recommendation 666
9/11 and the Beast From the Earth
The Bottom Line
Epilogue
About the Author

---
AUTHOR PROFILE
For more than 10 years, Herb Peters' weekly religion columns have appeared in several California newspapers. His timely columns and commentaries have been circulated widely in print and on the internet. Herb is also the founder and owner of the popular Web site on Bible prophecy, FulfilledProphecy.com.

---
BOOK SPECIFICATIONS
147 pages, paper.
ISBN: 0595288715