Home
About Us
FAQ
Privacy Policy
Contact Us
Books
DVDs
VHS
Charts
Audio Books
General Information
Secure Order Form
Mail & Fax Orders
Shipping Rates

Mastercard
Visa, Discover
* * *
Phone Toll Free:
1-877-577-8743
within U.S.A.
* * *
International
1-336-246-2663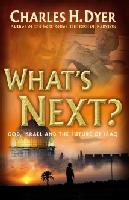 WHAT'S NEXT?: God, Israel and the Future of Iraq

Charles Dyer, 2004



Charles Dyer, a Middle East expert and officially licensed Israel tour guide, helps sort out the complexities of Mideast violence -- the ancient hatreds, the current crises. His extensive travel in Iraq, Israel, and elsewhere allows him to offer a unique "you-are-there" perspective. Weaving together expert insight, personal stories, and the view of faith, Dyer guides us on a remarkable journey through a treasured and tortured land.

---
TABLE OF CONTENTS
Prologue
Introduction
Those Who Forget History...
Unraveling the Matrix
After the Statue Fell
The Land, the People, the Puzzle
Israel: Right or Wrong?
The Last Act
Two Friends of Mine
What's Next... for You?
Appendix: Sources for Additional Information

---
AUTHOR PROFILE
Charles H. Dyer is the author of the bestselling The Rise of Babylon, an Old Testament scholar and officially licensed Israel tour guide. He is also senior vice-president of eductation and provost of Moody Bible Institute in Chicago.

---
BOOK SPECIFICATIONS
136 pages, paper.
ISBN 0802409075