Home
About Us
FAQ
Privacy Policy
Contact Us
Books
DVDs
VHS
Charts
Audio Books
General Information
Secure Order Form
Mail & Fax Orders
Shipping Rates

Mastercard
Visa, Discover
* * *
Phone Toll Free:
1-877-577-8743
within U.S.A.
* * *
International
1-336-246-2663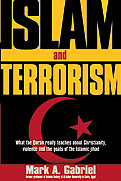 ISLAM AND TERRORISM

Mark A. Gabriel, Ph.D., 2002



Islam has been veiled in a vast sea of misinformation for too long! Never before has one book contained such valuable information about the Islamic faith, beliefs and traditions as well as historical and political insights. Dr. Mark Gabriel shares the truth and tells you everything you need to know and understand about Islam and why the United States has become the target of Islamic terrorism.

In Islam and Terrorism you will learn:
How Muhammad practiced holy war and why it continues today
Why the verses about jihad cancel out the verses about tolerance, causing contradictions in the Quran
What Muslims believe about earning your way into Paradise (heaven)
Which radical teachings in black market books are being read by the Islamic terrorists of today
Why the United States has become the target of Islamic terrorism
---
TABLE OF CONTENTS
Foreword by J. Lee Grady
Introduction
SECTION I
MY STORY

Disillusioned at Al_Azhar
The Egyptian Prison
A Year Without Faith

SECTION II
THE ROOTS OF TERRORISM IN ISLAM

Core Beliefs of Islam
Holy War in the Quran
Misinformed by the Media
Human Rights Under Islam

SECTION III
FOLLOWING MUHAMMAD'S EXAMPLE

Arabian Culture
Muhammad Declares Jihad
The Ultimate Goal of Islam
The Three Stages of Jihad
When Lies Are Justified
Muhammad's Use of Mosques

SECTION IV
THE DEVELOPMENT OF MODERN JIHAD

Forefathers of Terrorism
The Founding Father of Modern Jihad
The Philosophers of Jihad
Recruiting for Holy War
Inspired by Iran
Treachery Between Terrorists
Al_Jihad Prepares and Attacks
Justice Loses, Quran Wins
Jihad Bleeds Out of Egypt
New Strategy: Attack the West

SECTION V
MUSLIMS AND THE GOOD NEWS

The False Christianity Presented to Muslims
Bringing the Gospel to Muslims
Challenges for Muslim Converts
Epilogue
Notes
Glossary
Bibliography

---
AUTHOR PROFILE
Dr. Mark A. Gabriel was able to quote the entire Quran by the time he was twelve years old. Raised in Egypt--in the midst of a breeding ground of Islam terrorists--he spent his formative years deep inside the confines of Muslim influence. His own family disowned him after he converted to Christianity and tried to kill him several times. He escaped his homeland and now resides in the United States. As a reflection of his new life in Christ, he chose a Christian name to replace his Muslim name.

---
BOOK SPECIFICATIONS
234 pages, paper.
ISBN 0884198847