Home
About Us
FAQ
Privacy Policy
Contact Us
Books
DVDs
VHS
Charts
Audio Books
General Information
Secure Order Form
Mail & Fax Orders
Shipping Rates

Mastercard
Visa, Discover
* * *
Phone Toll Free:
1-877-577-8743
within U.S.A.
* * *
International
1-336-246-2663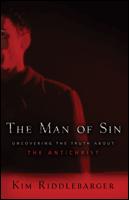 THE MAN OF SIN
Uncovering the Truth About the Antichrist

Kim Riddlebarger, 2006



Pastor and professor Kim Riddlebarger carefully untangles the confusion surrounding this biblical doctrine. He considers common beliefs about the Antichrist and end times, closely examines the relevant scriptural passages, and explains how these passages have been interpreted historically by the church. Pastors, professors, and concerned Christians seeking trustworthy guidance on the doctrine of the Antichrist will appreciate Riddlebarger's sound biblical approach.

---
TABLE OF CONTENTS
A Word of Thanks
Introduction
A Morbid Curiosity: Misconceptions about Antichrist
Forerunners of the Antichrist: The Old Testament Background to the Doctrine of Antichrist
The Doctrine of Antichrist in the New Testament Era: Some Preliminary Considerations
Many Antichrists Have Already Come: The Doctrine of Antichrist in the Epistles of John
The Dragon, the Beast, and the False Prophet: The Doctrine of Antichrist in the Book of Revelation
The Man of Lawlessness: The Doctrine of Antichrist in 2 Thessalonians 2:1-12
Know Your Enemy: The Antichrist in Church History
The Antichrist: Figure of the Past or Future Foe?
Appendix: The Date of the Writing of the Book of Revelation
Notes
Selected Bibliography
Scripture Index
Subject Index

---
AUTHOR PROFILE
Kim Riddlebarger (Ph.D., Fuller Theological Seminary) is currently the senior pastor of Christ Reformed Church in Anaheim, California, and visiting professor of systematic theology at Westminster Theological Seminary. He is also a cohost of the White Horse Inn radio program, a weekly broadcast on more than fifty radio stations.

---
BOOK SPECIFICATIONS
236 pages, paper, appendix, bibliography, Scripture index, general index.
ISBN 0801066069