Home
About Us
FAQ
Privacy Policy
Contact Us
Books
DVDs
VHS
Charts
Audio Books
General Information
Secure Order Form
Mail & Fax Orders
Shipping Rates

Mastercard
Visa, Discover
* * *
Phone Toll Free:
1-877-577-8743
within U.S.A.
* * *
International
1-336-246-2663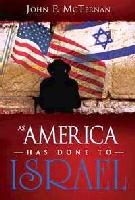 AS AMERICA HAS DONE TO ISRAEL

John P. McTernan, 2006, 2008



As America Has Done to Israel is the sequel to the best seller Israel: The Blessing or the Curse. The author traces the history of the Jewish people in America and how the USA is unique among all nations through blessing the Jews. This book reveals a spiritual aspect of America's beginning, its spectacular rise to power, and how this was tied into blessing the Jews. With great detail the author reveals the current connection between America interfering with God's prophetic plan for Israel and awesome disasters striking America. The book explains the world's future in light of Bible prophecy and what the near future holds. It shows how this all ties to the Second Coming of Jesus Christ.

Fascinating facts include:
How 19th Century American Christians started Zionism.
Why Russia has been such a colossal failure and the USA so blessed.
Explains Islam's Mahdi, Hezbollah and Hamas.
The coming Day of the Lord and what it entails, and much, much more.
---
TABLE OF CONTENTS
Introduction
Preface
Part One: Israel Past and Present
September 1938: Hitler and the Hurricane
The Apple of God's Eye
That People Whose God is Jehovah
The Modern Moses
The Tale of Two Countries: America Blessed, Russia Cursed
The Valley of Dry Bones Shall Live
The Modern Building of Zion
Jerusalem, God's Anvil
America on Collision Course With God

Part Two: Israel Future

The Day of the Lord
The Clouds of Heaven
Until the Times of The Gentiles Be Fulfilled
Addendum A: The Major Text of George Washington's 1789 Letter to the Hebrew Coongregation of Savannah, Georgia.
Addendum B: The Full Text of George Washington's 1790 Letter to the Hebrew Congregation of Newport, Rhode Island.
Addendum C: The Jewish Messenger, "Stand By The Flag."
Addendum D: The Blackstone Memorial, 1891.
Addendum E: Assurance of the Blessed Hope.
Endnotes
Bibliography

---
AUTHOR PROFILE
JOHN P. MCTERNAN is a lifetime student of American history. He is an avid student of Biblical prophecy since becoming a Christian in the early 1970s. He authored the acclaimed God's Final Warning to America and co-authored the bestseller Israel: The Blessing or the Curse. During numerous appearances on television, radio, and in seminars he has defended Israel in light of Biblical prophecy. In 1974 John became involved with the Pro-Life Movement and is a Pro-Life leader in central Pennsylvania. He co-founded International Cops for Christ where he serves as an ordained chaplain. He served as a US Treasury agent for 26 years until retiring in 1998. He holds a B.S. from Virginia Commonwealth University. He is married and the father of four children.

---
BOOK SPECIFICATIONS
319 pages paper, bibliography.
ISBN 9781603740388