Home
About Us
FAQ
Privacy Policy
Contact Us
Books
DVDs
VHS
Charts
Audio Books
General Information
Secure Order Form
Mail & Fax Orders
Shipping Rates

Mastercard
Visa, Discover
* * *
Phone Toll Free:
1-877-577-8743
within U.S.A.
* * *
International
1-336-246-2663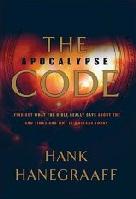 THE APOCALYPSE CODE: Find Out What the Bible Really Says about the End Times and Why It Matters Today

Hank Hanegraaff, 2007



"Most of what you've heard, read or been told about the End Times is wrong," says popular radio host and bestselling apologist, Hank Hanegraaff. "We have come to accept a wide range of beliefs and teachings about the future, about the ultimate battle between good and evil, about the last days, and about how our world will end. And most of these beliefs and teachings are based on fundamental misinterpretations of what the scriptures really say about the end times." The Apocalypse Code helps readers understand what the Bible really says about End Times, and why what we believe matters so much in today's world.

The Apocalypse Code offers sane answers to some very controversial questions:
What does it mean to take the book of Revelation (and the rest of the Bible) literally?
Who are the "Antichrist" and the "Great Whore of Babylon," and what is the real meaning of "666"?
How does our view of the end times change the way we think about the crisis in the Middle East?
Are two-thirds of all Jews really headed for an apocalyptic holocaust?
---
TABLE OF CONTENTS
Acknowledgments
Introduction
Resurrection of Antichrist
Racial Discrimination
Real Estate
Exegetical Eschatology: Method vs. Model

Literal Principle
Illumination Principle
Grammatical Principle
Historical Principle
Typology Principle
Scriptural Synergy

Literal Principle: Reading the Bible as Literature

Form
Figurative Language
Fantasy Imagery

Illumination Principle: Faithful Illumination vs. Fertile Imagination

Two Distinct People
Two Distinct Plans
Two Distinct Phases

Grammatical Principle: "It depends on the meaning of the word is"

This Generation
The Pronoun You
The Adverb Soon

Historical Principle: Historical Realities vs. Historical Revisionism

Location
Essence
Genre
Author
Context
Years

Typology Principle: The Golden Key

The Holy Land
The Holy City
The Holy Temple

Scriptural Synergy: The Code Breaker

Supreme Rule
Substance or Shadow
Sacrificing Traditions
Notes
Glossary
Subject Index
Scripture Index
Selected Bibliography

---
AUTHOR PROFILE
Hank Hanegraaff serves as president and chairman of the board of the North Carolina-based Christian Research Institute International. He is also host of the Bible Answer Man radio program, which is broadcast daily across the United States and Canada-as well as around the world through the Internet at www.equip.org. Hanegraaff and his wife, Kathy, live in North Carolina and have nine children-Michelle, Katie, David, John Mark, Hank Jr., Christina, Paul, Faith, and baby Grace-as well as five grandchildren.

---
BOOK SPECIFICATIONS
300 pages, paperback, subject index, Scripture index, bibliography.
ISBN 9780849919916