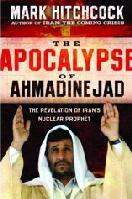 THE APOCALYPSE OF AHMADINEJAD
The Revelation of Iran's Nuclear Prophet

Mark Hitchcock, 2007



In his provocative, well-researched expose of Iranian president Mahmoud Ahmadinejad, prophecy expert Mark Hitchcock unveils the insidious agenda behind this Shiite's regime. His ultimate goal--driven by his fanatical ideology--is to bring the Mahdi, or Twelfth Imam, out of hiding. And he plans to do so by arming his country with nuclear weapons, then exporting the Iranian revolution to the world by destroying Israel and the United States. But there's a bizarre twist to Ahmadinejad's nightmarish intentions: This ardent zealot may well be part of God's plan to set the stage for a scenario prophesied more than 2,500 years ago. Hitchcock presents compelling evidence that Ahmadinejad's actions, including his alliances with Russia and many of Iran's neighbors, have placed his nation--and the world--on a collision course toward the war of Gog and Magog.

---
TABLE OF CONTENTS
Preface
The World's Most Dangerous Man
Son of the Revolution: Who Is Mahmoud Ahmadinejad?
Apocalypse NOW: Ahmadinejad's Frightening Vision of Your Future
New Hitler--New Holocaust
Ahmadinejad's Race for the Nuclear Finish Line
The Apocalypse of Jesus Christ
Some Questions You Might Be Asking
Glossary of Ten Key Terms
Appendix A--Transcript of a Speech by Ahmadinejad
Appendix B--Ahmadinejad's First Blog Entry
Appendix C--Official Iranian Eschatology
Appendix D--Ahmadinejad's Open Letter to President Bush
Notes

---
AUTHOR PROFILE
Mark Hitchcock is one of the most sought-after authorities in biblical prophecy for the current generation. He is the author of fourteen books, including Iran: The Coming Crisis and The Second Coming of Babylon. A graduate of Oklahoma State University and a former lawyer, he holds a doctorate from Dallas Theological Seminary and currently serves as pastor of Faith Bible Chruch in Edmond, Oklahoma. Mark and his wife, Cheryl, are the parents of two sons.

---
BOOK SPECIFICATIONS
208 pages, paper.
ISBN 9781601421029