Home
About Us
FAQ
Privacy Policy
Contact Us
Books
DVDs
VHS
Charts
Audio Books
General Information
Secure Order Form
Mail & Fax Orders
Shipping Rates

Mastercard
Visa, Discover
* * *
Phone Toll Free:
1-877-577-8743
within U.S.A.
* * *
International
1-336-246-2663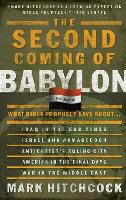 THE SECOND COMING OF BABYLON

Mark Hitchcock, 2003



The Bible says that Babylon will be rebuilt and become the economic center of the world in the end times. Even now the ruins of the ancient city-just sixty miles south of Baghdad, Iraq-are quietly stirring. What Bible Prophecy says about:
Iraq in the End Times
Israel and Armageddon
Antichrist's Ruling City
America in the Final Days
War in the Middle East
---
TABLE OF CONTENTS
Introduction
Prophecy in the New Millennium
Sensationalism or Signs of the Times?
From the Cradle to the Grave
The Head of Gold
"Fallen, Fallen Is Babylon the Great!"
When Will Babylon Fall?
Babylon: House of Evil in the End Times
Babylon in Revelation 17018
Antichrist: King of Babylon
Iraq and the Coming Islamic Invasion of Israel
Last Stop: Babylon
Babylon Today: Setting the Stage
How to Be Rapture Ready!
A Proposed Chronology of the End Times
Notes

---
AUTHOR PROFILE
Mark Hitchcock was an attorney in the Oklahoma Court of Criminal Appeals for four years. Afterward, he graduated from Dallas Theological Seminary and has since pastored Faith Bible Church in Edmond, Oklahoma, and written nine books. Among them are: Is the Antichrist Alive Today?, Seven Signs of the End Times, The Coming Islamic Invasion of Israel, 101 Answers to the Most Asked Questions about the End Times, Bible Prophecy in Light of the Fall of the Soviet Union, What on Earth is Going On?, Is America in Bible Prophecy?, and The Complete Book of Bible Prophecy. Mark and his wife Cheryl, live in Oklahoma with their two sons.

---
BOOK SPECIFICATIONS
190 pages, paper.
ISBN 1590522516