Home
About Us
FAQ
Privacy Policy
Contact Us
Books
DVDs
VHS
Charts
Audio Books
General Information
Secure Order Form
Mail & Fax Orders
Shipping Rates

Mastercard
Visa, Discover
* * *
Phone Toll Free:
1-877-577-8743
within U.S.A.
* * *
International
1-336-246-2663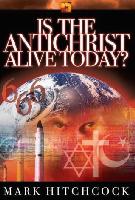 IS THE ANTICHRIST ALIVE TODAY?

Mark Hitchcock, 2002



Astounding footage from around the world confronts us with the shocking realization that news abou the Antichrist could break onto your TV screen at any moment...or maybe it already has! Mark Hitchcock sounds a wake-up call to this generation, unearths biblical clues about the Antichrist's identity, then shows you what you must do before he comes.

---
TABLE OF CONTENTS
Introduction
The Coming World Ruler
The Last Caesar
The Peacemaker
Antichrist in the Temple of God
One World Under Antichrist
A Man Who Makes His Mark
First the Rapture!
Antichrist Is Alive and Well
Don't Ignore the Warning!

Appendix
Notes
---
AUTHOR PROFILE
Mark Hitchcock graduated from Dallas Theological Seminary and has since pastored Faith Bible Church in Edmond, Oklahoma, and written six books: Seven Signs of the End Times, The Coming Islamic Invasion of Israel, 101 Answers to the Most Asked Questions about the End Times, Bible Prophecy in Light of the Fall of the Soviet Union, What on Earth is Going On?, Is America in Bible Prophecy?, and The Complete Book of Bible Prophecy. Mark and his wife Cheryl, live in Oklahoma with their two sons.

---
BOOK SPECIFICATIONS
108 pages, paper.
ISBN 1590520750