Home
About Us
FAQ
Privacy Policy
Contact Us
Books
DVDs
VHS
Charts
Audio Books
General Information
Secure Order Form
Mail & Fax Orders
Shipping Rates

Mastercard
Visa, Discover
* * *
Phone Toll Free:
1-877-577-8743
within U.S.A.
* * *
International
1-336-246-2663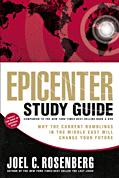 EPICENTER STUDY GUIDE

Rosenberg, Joel C., 2008



The politics of the Middle East can be murky and confusing. But one thing is increasingly certain: The eyes of the nations are riveted upon Israel and her neighbors, the epicenter of the momentous events shaking our world and shaping our future. What does the future hold? How will it affect your world? The Epicenter Study Guide can be used along with Joel Rosenberg's best-selling book Epicenter to help de mystify the events happening around the world.

This study guide is designed to facilitate group discussion but can also be used for individual study. The study guide is divided into chapters to correlate with the chapters in Epicenter. You'll find helpful excerpts and Scripture references. The guide provides an easy-to-use workbook format that allows you to write directly in the book plus offers additional space for study notes.

---
TABLE OF CONTENTS
WELCOME TO THE EPICENTER
INTRODUCTION: ALL EYES ON THE EPICENTER
UNDERSTANDING GOD'S HEART FOR THE EPICENTER
Predicting the Future
The Genesis of Jihad
Connecting the Dots

SETTING THE STAGE: PART I

The Third Lens
Future Headline: Israel Discovers Massive Reserves of Oil, Gas
Future Headline: Treaties and Truces Leave Israelis More Secure than Ever Before

SETTING THE STAGE: PART II

Future Headline: A Czar Rises in Russia, Raising Fears of a New Cold War
Future Headline: Kremlin Joins "Axis of Evil," Forms Military Alliance with Iran
Future Headline: Moscow Extends Military Alliance to Include Arab, Islamic World

USING THE THIRD LENS: PART I

Future Headline: Global Tensions Soar as Russia Targets Israel
Future Headline: New War Erupts in Middle East as Earthquakes, Pandemics Hit Europe, Africa, Asia
Future Headline: Iraq Emerges from Chaos as Region's Wealthiest Country

USING THE THIRD LENS: PART II

Future Headline: Jews Build Third Temple in Jerusalem
Future Headline: Muslims Turn to Christ in Record Numbers
Tracking the Tremors
CLOSING PERSONAL NOTE
PRAYER JOURNAL
APPENDIX: BIBLE PROPHECY AND YOUR SPIRITUAL JOURNEY
ACKNOWLEDGMENTS
SUGGEST READING

---
AUTHOR PROFILE
Joel C. Rosenberg is the New York Times best-selling author of The Last Jihad, The Last Days, The Ezekiel Option, and The Copper Scroll, with more than one million copies in print. Joel is a writer and communications strategist who has worked for some of the world's most influential and provocative leaders, including Steve Forbes, former Israeli prime minister Benjamin Netanyahu, and former Israeli deputy prime minister Natan Sharansky. A front-page Sunday New York Times profile called him a "Force in the capital." A former political columnist for World magazine, he has been interviewed on over 300 radio and TV programs, including ABC's nightline, CNN Headline News, FOX News Channel, The History Channel, MSNBC, The Rush Limbaugh Show, and The Sean Hannity Show.

---
BOOK SPECIFICATIONS
92 pages, paper.
ISBN 9781414321547