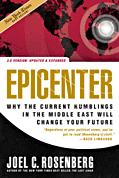 EPICENTER 2.0 VERSION: Updated & Expanded

Joel C. Rosenberg, 2006, 2008



In his first groundbreaking nonfiction book, now with updated content, New York Times best-selling author Joel C. Rosenberg takes readers on an unforgettable journey through prophecy and current events into the future of Iraq after Saddam, Russia after Communism, Israel after Arafat, and Christianity after radical Islam. You won't want to miss Joel's exclusive interviews with Israeli, Palestinian, and Russian leaders, along with previously classified CIA and White House documents. New content includes the most up-to-date information since the hardcover release in 2006, a new poll about American attitudes toward the Middle East and prophecy, and transcripts of interviews conducted during the interview process for the Epicenter DVD-video.
---
TABLE OF CONTENTS
EPICENTER 2.0: INTRODUCTION TO THE SOFTCOVER EDITION
INTRODUCTION: ALL EYES ON THE EPICENTER
PREDICTING THE FUTURE
THE GENESIS OF JIHAD
CONNECTING THE DOTS
THE THIRD LENS
FUTURE HEADLINE:
ISRAEL DISCOVERS MASSIVE RESERVES OF OIL, GAS
FUTURE HEADLINE
TREATIES AND TRUCES LEAVE ISRAELIS MORE SECURE THAN EVER BEFORE
FUTURE HEADLINE:
A CZAR RISE IN RUSSIA, RAISING FEARS OF A NEW COLD WAR
FUTURE HEADLINE:
KREMLIN JOINS "AXIS OF EVIL,"
FORMS MILITARY ALLIANCE WITH IRAN
FUTURE HEADLINE:
MOSCOW EXTENDS MILITARY ALLIANCE TO INCLUDE ARAB, ISLAMIC WORLD
FUTURE HEADINE:
GLOBAL TENSIONS SOAR AS RUSSIA TARGETS ISRAEL
FUTURE HEADLINE:
NEW WAR ERUPTS IN MIDDLE EAST AS EARTHQUAKES, PANDEMICS HIT EUROPE, AFRICA, ASIA
FUTURE HEADLINE:
IRAQ EMERGES FROM CHAOS AS REGION'S WEALTHIEST COUNTRY
FUTURE HEADLINE:
JEWS BUILD THIRD TEMPLE IN JERUSALEM
FUTURE HEADLINE:
MUSLIMS TURN TO CHRIST IN RECORD NUMBERS
TRACKING THE TREMORS
AFTERWORD
APPENDIX 1:
FREQUENTLY ASKED QUESTIONS
APPENDIX 2:
AMERICAN ATTITUDES TOWARD BIBLE PROPHECY
APPENDIX 3:
AMERICAN CHRISTIAN ATTITUDES TOWARD ISRAEL AND EPICENTER ISSUES
APPENDIX 4:
EZEKIEL 38-39
APPENDIX 5:
INTERVIEW TRANSCRIPTS
ENDNOTES
ACKNOWLEDGMENTS

---
AUTHOR PROFILE
Joel C. Rosenberg is the New York Times best-selling author of The Last Jihad, The Last Days, The Ezekiel Option, The Copper Scroll, and Dead Heat, with more than 1.5 million copies in print.

---
BOOK SPECIFICATIONS
401 pages, paper, appendices.
ISBN 9781414311364