Home
About Us
FAQ
Privacy Policy
Contact Us
Books
DVDs
VHS
Charts
Audio Books
General Information
Secure Order Form
Mail & Fax Orders
Shipping Rates

Mastercard
Visa, Discover
* * *
Phone Toll Free:
1-877-577-8743
within U.S.A.
* * *
International
1-336-246-2663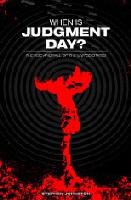 WHEN IS JUDGMENT DAY?
The Rise and Fall of the United States

Stephen Johnston, 2008


$14.95
Ships within
24 hours!


Judgment Day is part of what the Bible calls the Day of the Lord, a period at the end of time when Gods will and purpose for mankind and His Word will be fulfilled. It includes the Great Tribulation, the second literal coming of Christ to earth, a one thousand year reign of Christ on earth, and the creation of a new heaven and a new earth. When Is Judgment Day? presents a systematic analysis of these end time Biblical events by carefully outlining the cosmic cataclysms in which God destroys the ruling power of evil, disposes usurpers, redeems the universe to its rightful owner, and resurrects the righteous to life in a Messianic Kingdom Topics covered include the Biblical method of literal interpretation of scriptures, the imminent return of Christ and the signs of His coming, distinctions between the Rapture and the second coming of Christ, and the difference between Israel and the Church in prophetic interpretation.

---
TABLE OF CONTENTS
Foreword
Preface
When Is Judgment Day?
The Prophecy Regarding Israel
Peace in the Middle East
The Church Age
The Rapture
Signs of the Rapture
The Immanency of the Rapture
The Seven Seals and the Tribulation
The United States of America in Prophecy
The Seven Trumpet Judgments
Is Israel Just Dirt?
The Revived Roman Empire
The Seven Bowl Judgments
The Destruction of Babylon
The Resurrection
The Millennial Reign of Christ
Eternity
Notes
Bibliography

---
AUTHOR PROFILE
Stephen B. Johnston, B.S., J.D., came from a fundamentalist Christian family. His grandfather, Dr. Clarence Hedrich, had a radio program and was an authority on prophecy. In the 1930s and 40s he predicted that the Jews would return to the Promised Land. Mr. Johnston has a law degree and graduated from Calvary Chapel School of Ministry, a two-year theological seminary. He has over fifteen years experience in prison ministry. He has taught the Bible in orphanages, gospel missions, and prisons. He is currently a chaplain at Pelican Bay, a California State maximum security prison. He has been married for thirty-three years and has one adult daughter and one granddaughter.

---
BOOK SPECIFICATIONS
315 pages, paper, bibliography.
ISBN: 9780981509136