Home
About Us
FAQ
Privacy Policy
Contact Us
Books
DVDs
VHS
Charts
Audio Books
General Information
Secure Order Form
Mail & Fax Orders
Shipping Rates

Mastercard
Visa, Discover
* * *
Phone Toll Free:
1-877-577-8743
within U.S.A.
* * *
International
1-336-246-2663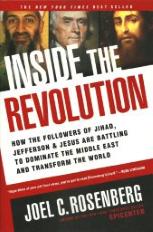 INSIDE THE REVOLUTION: How the Followers of Jihad, Jefferson & Jesus are Battling to Dominate the Middle East & Transform the World

Joel Rosenberg, 2009, 2011


---
Inside the Revolution takes you inside the winner-take-all battle for the hearts, minds, and souls of the people of the Middle East. It includes never-before-seen profiles of the Radicals, the Reformers and the Revivalists. It explains the implications of each movement and the importance of each leader-not only through the lenses of politics and economics but through the third lens of Scripture as well. Today, wars and revolutions define the modern Middle East, and many believe the worst is yet to come. Inside will answer questions such as: How real and serious is the threat of radical islam? What is God doing in the Middle East? Are there Muslim leaders that oppose the violence of radicals?

---
TABLE OF CONTENTS
Note to Readers
Introduction: Not "If" but "When"
PART ONE:
the RADICALS

Worst-Case Scenario
"Islam Is the Answer; Jihad Is the Way"
The Theology of the Radicals
"We Were Asleep"
Tragedy at Desert One
"We Must Export Our Revolution"
Christmas in Kabul
Declaring War on America
Unleashing the Islamic Bomb
Terror High
Revolution 2.0
Making Way for the Mahdi
The Road Ahead

PART TWO:
the REFORMERS

"Islam Is the Answer, but Jihad Is Not the Way"
The Theology of the Reformers
The Defector
Meet Hamid Karzai
Karzai's Mission
"We Are Fighting Islamic Fascists"
Meet Jalal Talabani
Talabani's Test
The King and I
The Moroccan Model

PART THREE:
the REVIVALISTS

"Islam Is Not the Answer, and Jihad Is Not the Way; Jesus Is the Way"
The Big, Untold Story--Part One
The Big, Unotld Story--Part Two
The Air War
The Ground War--Part One
The Ground War--Part Two
The Theology of the Revivalists
Making Way for the Messiah
Join the Revolution
Appendix: 20 Terror Plots against America Foiled since 9/11
Endnotes
Index
Acknowledgments
Recommended Reading

---
AUTHOR PROFILE
Joel C. Rosenberg is the New York Times best-selling author of The Last Jihad, The Last Days, The Ezekiel Option, The Copper Scroll, Deat Heat, and Epicenter, with more than 1.5 million copies in print. Joel is a writer and communications strategist who has worked for some of the world's most influential and provocative leaders, including Steve Forbes, former Israeli prime minister Benjamin Netanyahu, and former Israeli deputy prime minister Natan Sharansky. A front-page Sunday New York Times profile called him a "force in the capital." A former political columinist for World magazine, he has been interviewed on over 300 radio and TV programs, including ABC's Nightline, CNN Headline News, FOX News Channel, The History Channel, MSNBC, The Rush Limbaugh Show, The Glenn Beck Show, and The Sean Hannity Show. He has been profiled by the Washington Times and the Jerusalem Post and was the subject of two cover stories in World magazine. He has addressed audiences all over the world, including Russia, Israel, Jordan, Egypt, Turkey, and Belgium, and has spoken at the White House.

---
BOOK SPECIFICATIONS
(551 pages, hardcover), (559 pages, paperback), appendix, index.
Paperback - ISBN 9781414319322
Hardcover - ISBN 9781414319315