Home
About Us
FAQ
Privacy Policy
Contact Us
Books
DVDs
VHS
Charts
Audio Books
General Information
Secure Order Form
Mail & Fax Orders
Shipping Rates

Mastercard
Visa, Discover
* * *
Phone Toll Free:
1-877-577-8743
within U.S.A.
* * *
International
1-336-246-2663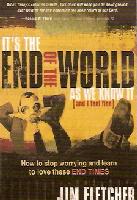 ITS THE END OF THE WORLD AS WE KNOW IT (AND I FEEL FINE)

Jim Fletcher, 2009



Jim Fletcher admits to having a fascination when it comes to the end of the world. Will it come in a cataclysm? In an inferno? Will it come at all? Fletcher has spent much of his adult life in search of the truth about the Bible and Bible prophecy. In this book, he clearly demonstrates just how relevant (and true) the Bible really is, showing how... Despite the mockery of the Bible today, we are in fact living in the last days of world history, as outlined in the Hebrew and Christian Scriptures. With humor and a keen eye for pop culture, Fletcher walks you through the opinions of people from the famous to the obsure and then demonstrates conclusively that the Bible's predictions are turn... and there's nothing to be afraid of.

---
TABLE OF CONTENTS
Prologue
Homer Simpson's Search for the Meaning of Life
It's the End of the World as We Know It (and I Feel Fine)
Walker Percy and All His Hittite Friends
Who Are You?
The Dry Bones
Joshua at Entebbe
Strong Coffee, Stronger Revelation at the American Colony Hotel
It's All Coincidence
Follow Your Heart
Notes

---
AUTHOR PROFILES
Jim Fletcher has a BA in journalism from College of the Ozarks and has spent twenty years in publishing, as a newspaper editor then book editor. He is director of the apologetics group Prophecy Matters and lives with his wife, Dianna, in the beautiful mountains of northwest Arkansas. They have four children and two grandchildren.

---
BOOK SPECIFICATIONS
204 pages, paper.
ISBN 9781599794723