Home
About Us
FAQ
Privacy Policy
Contact Us
Books
DVDs
VHS
Charts
Audio Books
General Information
Secure Order Form
Mail & Fax Orders
Shipping Rates

Mastercard
Visa, Discover
* * *
Phone Toll Free:
1-877-577-8743
within U.S.A.
* * *
International
1-336-246-2663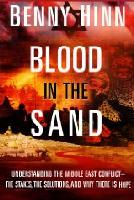 BLOOD IN THE SAND: Understanding the Middle East Conflict -- The Stakes, The Solutions, and Why There is Hope

Benny Hinn, 2009



The Arab-Israeli conflict makes daily headlines, but few understand the history behind the struggle. In Blood in the Sand, Benny Hinn takes you deep inside the region--the history, politics, and religions--to show you what is happening there and, more importantly, why. Drawing from his deep history in the area, his personal relationships with top Israeli and Arab leaders, and his biblical scholarship, he answers critical questions such as: How did we get into this tragic situation? What are the dangers? What does the Bible say about the future?

---
TABLE OF CONTENTS
Foreword by Ehud Olmert
Introduction: Eyewitnesses to History!
The Lunatic Reality!
A Strife-Torn Land
Six Days in June
The Root of the Problem
Who Owns the Land?
The Promised Deliverer
From the Sands of Arabia
"The Turks Are Coming!"
The Mandate
Desperate Days
When Will the Conflict End?
Reclaiming the Land
Leaves on the Fig Tree
Who Will Rise? Who Will Fall?
The Iranian Threat
The Battle of the Ages
Notes
Index

---
AUTHOR PROFILE
People around the globe known Pastor Benny Hinn as an evangelist, teacher, and author of best-selling books, including Good Morning, Holy Spirit and the Blood. His TV program, This Is Your Day! is among the world's most-watched Christian broadcasts, seen daily in 200 countries. Pastor Hinn has been in worldwide ministry for more than 30 years, has met with hundreds of major world leaders, and has preached the gospel fact-to-face and through television to more than a billion people. In addition, he is founder of Benny Hinn School of Ministry, now with more than 11,000 students, offering a cooperative relationship with Liberty University in colleg-level studies.

---
BOOK SPECIFICATIONS
238 pages, paper, index.
ISBN 9781599797700