Home
About Us
FAQ
Privacy Policy
Contact Us
Books
DVDs
VHS
Charts
Audio Books
General Information
Secure Order Form
Mail & Fax Orders
Shipping Rates

Mastercard
Visa, Discover
* * *
Phone Toll Free:
1-877-577-8743
within U.S.A.
* * *
International
1-336-246-2663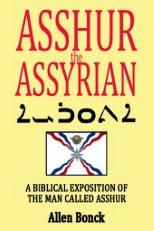 ASSHUR THE ASSYRIAN
A Biblical Exposition of the Man Called Asshur

Allen Bonck, 2009



There are many books that explore the history of Assyria and the many kings that ruled there. This book explores the history of Assyria only briefly, but covers the future nation and the man who will lead her. The revived nation of Assyria will play more than a small part in the prophetic events coming in the near future. Assyria's leader will rule much more than just a small province in northern Iraq. He will ultimately rule the world. Explores:
The coming establishment of an Assyrian province in the Niniveh Plains of northern Iraq.
The rise of an Assyrian leader from Persia modern Iran.
The coming of a European / Middle Eastern ten nation confederacy.
The modern man known as "the Assyrian" A.K.A: The Little Horn, The vile Persian, The Man of Sin, The Son of Perdition, The Beast, AntiChrist.
---
TABLE OF CONTENTS
INTRODUCTION: Asshur and Assyria
Asshur the Assyrian
Asshur and Persia
Asshur and the Little Horn
Asshur the Beast
Asshur the Son of Perdition
Asshur, One Man's Story
MAPS
GENERAL INDEX
INDEX OF NAMES
INDEX OF PLACES
SCRIPTURE INDEX

---
AUTHOR PROFILE
Allen Bonck taught bible college courses in eschatology and comparative religions for twelve years. He founded and headed a research ministry for ten years during the 1980s. He is active in a Denver-based ministry and also writes and records his own gospel music.

---
BOOK SPECIFICATIONS
105 pages, paperback, index.
ISBN 9781440162732