Home
About Us
FAQ
Privacy Policy
Contact Us
Books
DVDs
VHS
Charts
Audio Books
General Information
Secure Order Form
Mail & Fax Orders
Shipping Rates

Mastercard
Visa, Discover
* * *
Phone Toll Free:
1-877-577-8743
within U.S.A.
* * *
International
1-336-246-2663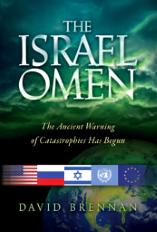 THE ISRAEL OMEN
The Ancient Warning of Catastrophies Has Begun

David Brennan, 2009



The Israel Omen considers a series of historically destructive events since 1991, connected by a common thread: warnings found in ancient Hebrew writings. Are these events perhaps the telling signs of an ancient omen, the same omen ignored by Egypt some 3500 years ago resulting in the famous Biblical plagues? Did this omen return with the homecoming of the Jews to the Holy Land in 1948? As the nations of the world gather to remove the restored "Promised Land" from the Jews, the international group called the "Quartet" leading the effort eerily appears to be specifically mentioned in these ancient writings. Was the financial collapse that began in 2007 the beginning of a promised curse against the nations gathered to remove the restored "Promised Land?"

---
TABLE OF CONTENTS
Prologue

THE PAST

Acts of God
The Man That Saw The Future
Ancient Egyptian Defiance

CATASTROPHIES

The Perfect Storm
Hurricane Andrew
The Great Flood
Northridge Earthquake
The Great Texas Flood
September 11, 2001
562 Tornados
The Great European Heat Wave
Hurricane Katrina
Global Financial Crisis

THE FUTURE

Ancient Warning Of Terror
The Israel Omen
The Next Catastrophe

APPENDICES

APPENDIX A The Promised Land
APPENDIX B The Year 1948 Predicted?

CHART

Coincidences

References
Index
---
AUTHOR PROFILE
Born and raised in New Orleans, David Brennan attended the University of New Orleans where he received a Bachelor of Arts degree in Political Science. Since 1992 he has studied Bible prophecy as it is related to current international political issues.

---
BOOK SPECIFICATIONS
221 pages, paperback, appendix, index.
ISBN 9780578033709