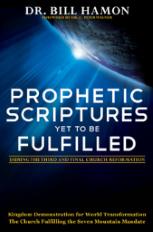 PROPHETIC SCRIPTURES YET TO BE FULFILLED
During the Third and Final Church Reformation

Dr. Bill Hamon, 2010



Prophetic Scriptures Yet to Be Fulfilled reveals the times and purposes of God for His Church and planet Earth. The Church has now entered a new era of Christianity-the Third Reformation. God fulfilled specific purposes in the First and Second Reformation, likewise a major purpose of His will be fulfilled in this age. Explained and predicted:
First Reformation - 4 B.C. - A.D. 313
Second Reformation - 1517 - 2007
Third Reformation - 2008 Revelation 11:15
You will learn about the fascinating transformation to the seven mountains of culture and how every nation will become either a sheep or a goat nation. In the end, the restoration of all things spoken of by the apostles and prophets will release Jesus to return and set up His domain over all the earth.

---
TABLE OF CONTENTS
BOOKS OF THE BIBLE: Abbreviations Used in This Book
FOREWORD
INTRODUCTION
God's Times and Purposes
Revelation and Preparation
The First Church Reformation 4 B.C. to A.D. 313
The Dark Age of the Church
Preparation for the Second Church Reformation
Revelation and Restoration
Birth of the Second Reformation
The Second Reformation: 1517 to 2007
Revelation and Preparation of the Third Reformation
Progressive Revelation to Ultimate Destination
The Third and Final Reformation: Thy Kingdom Come
Qualifications for Kingdom Participation
Voice of the Lord
God's New World Order Versus Man's New World Order
Transition to the New Christian Era
Prophetic Scriptures Yet to Be Fulfilled
The Third Unveiling of the Present and End-time Events
---
AUTHOR PROFILE
Dr. Bill Hamon has been an ordained minister for 56 years. With the dual gifting of prophet and apostle, he majors on the restoration and destiny of the Church. He is a founder and bishop of Christian International Apostolic Network with thousands of ministers and churches worldwide. He has authored 10 major books on the prophetic/apostolic and the Kingdom of God.

---
BOOK SPECIFICATIONS
284 pages, paperback, bibliography.
ISBN: 9780768432008