Home
About Us
FAQ
Privacy Policy
Contact Us
Books
DVDs
VHS
Charts
Audio Books
General Information
Secure Order Form
Mail & Fax Orders
Shipping Rates

Mastercard
Visa, Discover
* * *
Phone Toll Free:
1-877-577-8743
within U.S.A.
* * *
International
1-336-246-2663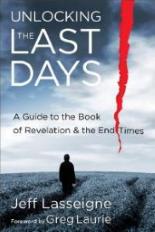 UNLOCKING THE LAST DAYS
A Guide to the Book of Revelation & the End Times

Jeff Lasseigne, 2011



The very title of the last book of the Bible means "unveiling." Yet this mysterious and confusing book seems to do anything but unveil, especially when we read it on our own. Unlocking the Last Days takes readers through key parts of this misunderstood book, using a verse-by-verse approach that clearly communicates God's truth, warnings, and promises. Both Bible teachers and students will find this book a welcome aid to understanding an intriguing piece of the Scriptures.

---
TABLE OF CONTENTS
Foreword by Greg Laurie
Acknowledgments
Introduction
Pulling Back the Curtain
What Does Jesus Look Like?
What Christ Thinks of the Church--Part 1

What Christ Thinks of the Church--Part 2

What Christ Thinks of the Church--Part 3

What Christ Thinks of the Church--Part 4

Casting Crowns
The Lion and the Lamb
The Four Horsemen of the Apocalypse
Heavenly and Earthly Responses
Who Is Able to Stand?
The Terrible Trumpets
Something Wicked This Way Comes
A Message from God
The Temple and the Two Witnesses
A History of Hatred
The Blasphemous Beast
Satan's Worship Leader
The Certainties of God
The Beginning of the End
God's Righteous Judgments
Judgment of the Harlot
Babylon Is Fallen!
A Marriage Made in Heaven
Return of the King
The Millennial Kingdom
The Great White Throne Judgment
The Best Is Yet to Come
Home Sweet Home
Great Expectations
Responding to Revelation
Notes

---
AUTHOR PROFILE
Jeff Lasseigne has been the assistant pastor at Harvest Christian Fellowship in Riverside, California, serving under senior pastor Greg Laurie, since 1989. In addition to his administrative duties, Jeff teaches midweek Bible study and helps to oversee leadership training. He is the author of Highway 66, an overview of the 66 books of the Bible.

---
BOOK SPECIFICATIONS
333 pages, paper.
ISBN 9780801013539