Home
About Us
FAQ
Privacy Policy
Contact Us
Books
DVDs
VHS
Charts
Audio Books
General Information
Secure Order Form
Mail & Fax Orders
Shipping Rates

Mastercard
Visa, Discover
* * *
Phone Toll Free:
1-877-577-8743
within U.S.A.
* * *
International
1-336-246-2663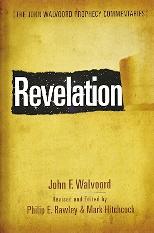 REVELATION
The John Walvoord Prophecy Commentaries
Revised and Edited by Philip E. Rawley & Mark Hitchcock

John F. Walvoord, 2011



The book of Revelation has long fascinated and even confused readers and students of the Bible alike. Yet, the Bible is made to be understood and Revelation is no exception. Who better to help you understand the seals, trumpets, vials, woes, and plagues than John F. Walvoord, one of evangelicalism's most prominent leaders, and Mark Hitchcock, today's leading Bible prophecy expert? In this first in a renewed series of commentaries from Dr. Walvoord, he points out that much of the book's symbolism can be interpreted literally. At key points different views and approaches to interpretation are explored. Walvoord devotes special attention to textual and doctrinal issues while avoiding technical language. Refined, updated with the English Standard Version (ESV), and streamlined, this classic text is set to help you interpret the last book of the Bible and gain a better grasp of current trends and the climax of history!

---
TABLE OF CONTENTS
Foreword
Preface
Introduction
The Thing That You Have Seen
The Letters to Ephesus, Smyrna, Pergamum, and Thyatira
The Letters to Sardis, Philadelphia, and Laodicea
The Church in Heaven
The Lamb and the Seven-Sealed Book
The Beginning of the Great Day of God's Wrath
The Saints of the Great Tribulation
The Seventh Seal and the Beginning of the Trumpets
The Fifth and Sixth Trumpets: The First and Second Woes
The Mighty Angel with the Little Scroll
The Two Witnesses and the Seventh Trumpet
The Conflict in Heaven and on Earth
The Two Beasts
The Victory of the Lamb and His Followers
The Vision of the Seven Last Plagues
The Bowls of God's Wrath
The Destruction of Ecclesiastical Babylon
The Fall of Babylon
The Second Coming of Christ
The Reign of Christ
The New Heaven and the New Earth
Concluding Revelations and Exhortations
Bibliography
Subject Index
Scripture Index

---
AUTHOR PROFILE
JOHN F. WALVOORD (A.B., D.D., Wheaton College; A.M., Texas Christian University; Th.B., Th.M., Th.D., Dallas Theological Seminary), former president of Dallas Theological Seminary and editor of Bibliotheca Sacra, America's oldest theological quarterly, was recognized as one of the leading evangelical theologians in America and an authority on systematic theology and eschatology. His academic background and extensive travel in the Middle East made him unusually capable of preparing theological and eschatological studies. He authored numerous books on theology and biblical prophecy, including The Revelation of Jesus Christ, Jesus Christ Our Lord, and Daniel: The Key to Prophetic Revelation.

---
BOOK SPECIFICATIONS
394 pages, hardcover, bibliography, subject index, Scripture index.
ISBN 9780802473127