Home
About Us
FAQ
Privacy Policy
Contact Us
Books
DVDs
VHS
Charts
Audio Books
General Information
Secure Order Form
Mail & Fax Orders
Shipping Rates

Mastercard
Visa, Discover
* * *
Phone Toll Free:
1-877-577-8743
within U.S.A.
* * *
International
1-336-246-2663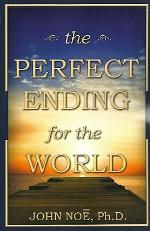 THE PERFECT ENDING FOR THE WORLD

John Noe, Ph.D., 2011



An updated, revised, expanded, and re-titled new edition of the author's original work, Beyond the End Times.

'End-of-the-world' ranting and ravings are, once again, parading across our paths. All humankind has and is paying a horrendous price for their ages-old trail of failed predictions. Nonetheless, many are wondering if this time could really be it. And the answer is, NO! In this book you will discover why and how the God of divine perfection in the creation of the physical earth and cosmos is also the same God of divine perfection in the creation and fulfillment of his plan of redemption. That means the world He created is without end and "the end" the Bible consistently proclaims for the world came right on time; it's behind us not ahead of us; it's "last days" are past not present or future. This book presents and documents the scriptural and historical evidence. No gaps, no delays, no interruption of time frames, and no strained explanations are needed. All was fulfilled, precisely and chronologically, within human history and as prophesied centuries in advance. Truly, this is "the perfect ending" and great good news for the entire world. It's also the ultimate apologetic (defense) for the existence of God, the climax of the rest of the greatest story ever foretold, and is being proclaimed by this author and other Bible scholars as the basis for the next reformation of Christianity. View: Preterist

---
TABLE OF CONTENTS
Author's Note - My Quest for the Rest
Introduction - Divine Perfection Once upon a Time
PART I: IDEAS HAVE CONSEQUENCES

Clearly, Somthing is Wrong
The Diastrous Power of Cataclysmic Imagery

PART II: WHAT ABOUR THE END OF THE WORLD?

Why the World Will Never Ever End
What a 'World Without End' Message Could Mean

PART III: THE DIVINE TIMEFRAME

Don't Monkey with Daniel
Daniel's Time of the End
Is God's Word Trustworthy?

PART IV: THE 1ST-CENTURY WITNESS

Jesus' Most Dramatic Prophecy Revisited
The End that Was, the Last Days that Were
What Do the Critics Charge?
Seven Demanding Evidences of Jesus' Timely Coming on the Clouds
Eight Challenging Objections
The New Heaven and New Earth--Are They Really a Sequel?
Conclusion - Now You Know the Rest of the Story, What's Next?
Appendix A - Daniel's "70 Weeks" and "Time of the End"
Timeline--457 B.C. to A.D. 70
Appendix B - The Olivet Discourse Cannot Be Divided
Scriptural Index
Endnotes

---
AUTHOR PROFILE
John No? (pronounced "No-ee") is president of the Prophecy Reformation Institute, a conservative, evangelical scholar, and a member of the Evangelical Theological Society. He holds an earned Ph.D. in Theology from Trinity Theological Seminary and the University of Liverpool ("With Distinction"). He's the author of three other trade-published and best-selling books: Peak Performance Principles for High Achievers, People Power, and The Apocalypse Conspiracy. John is also a screenwriter, an award-winning entrepreneur, and a past 20-year member of the National Speakers Association. He's been featured on numerous TV and radio programs including CNN's Larry King Live and CBN's 700 Club, has climbed mountains around the world, and lives in Indianapolis with his wife, Cindy, a state representative. They have two grown children and thirteen grandchildren.

---
BOOK SPECIFICATIONS
374 pages, paperback, appendix, Scripture index.
ISBN 9780983430308