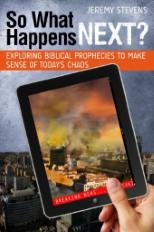 SO...WHAT HAPPENS NEXT?
Exploring Biblical Prophecies to Make Sense of Today's Chaos

Jeremy W. Stevens, 2012



It's no secret—the world is spiraling out of control. In fact, it's hurtling toward the end times at a faster rate than many realize. From events in the Middle East to the latest Hollywood movies, fear of the world's end seems to be at an all-time high. Are we, collectively, becoming more in tune with apocalyptic dread for a reason? Maybe. But perhaps it is just more of the same end-of-the-world fear we have always had.

The prophesied future invasion of Israel has become a realistic possibility, with the alignment of Russia, Turkey, and Iran against the West and Israel. Recent history also makes it easier to believe that Iraq can indeed become a powerful nation with a new capitol—Babylon. So… What Happens Next explores the biblical prophecies of the past to learn about the potential future. In it, Jeremy Stevens combines expert opinion with the predictions of the Bible, using a system known as biblical strategic forecasting.

So… What Happens Next discusses how secular geopolitical predictions about the future are eerily similar to ancient prophecy and explains how the Bible's predictions are being fulfilled—right before our eyes. Stevens describes the path the western world has taken, leading up to its role in the end and discusses the importance of the United States to the fulfillment of Scripture.

---
TABLE OF CONTENTS
Introduction: So... What Happens Next?
PART I: THE END-TIMES ROLE OF THE WEST

The Rise of Western Civilization and Globalism
The End-Times Role of the United States

PART II: FUTURE PROPHECIES AND CURRENT EVENTS

Gog and Magog: Russia's End-Times Invasion of Israel
Is Israel Secure Today?
Will Russia Soon Invade the Middle East?
Turkey, Anyone?
The Persian Menace
East African Conundrum
The Merchants of Tarshish: Divided yet Powerful
The Arab World: Against Every Man
Iraq and the New Babylon
Kings of the East: India, China, and Japan

PART III: SOONER THAN LATER

Is the End Nigh?
Conclusion: The Future
Acknowledgments
Notes
Bibliography

---
AUTHOR PROFILE
Jeremy Stevens is an award-winning teacher, most recently working in Maryland for St. Mary's Public Schools and as an adjunct professor at the College of Southern Maryland. He holds a BA from Cedarville University in history and education and an MA in history from the University of Indianapolis. Jeremy currently resides in Carmel, Indiana with his wife, Ali.

---
BOOK SPECIFICATIONS
216 pages, paperback, bibliography.
ISBN 9781937756468