Home
About Us
FAQ
Privacy Policy
Contact Us
Books
DVDs
VHS
Charts
Audio Books
General Information
Secure Order Form
Mail & Fax Orders
Shipping Rates

Mastercard
Visa, Discover
* * *
Phone Toll Free:
1-877-577-8743
within U.S.A.
* * *
International
1-336-246-2663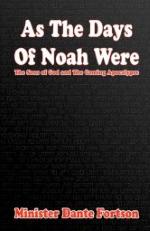 AS THE DAYS OF NOAH WERE
The Sons of God and The Coming Apocalypse

Minister Dante Fortson, 2010



When Jesus delivered the Olivet Discourse just before His crucifixion, He taught His disciples the signs that would indicate that human history was coming to its climax. One of these signs was that the end would be "as the days of Noah were". Did He only mean that we would be caught off guard or was He referring to events so sinister in nature that they would test the faith of every man, woman, and child on the planet? Minister Dante Fortson takes the reader on a journey through Noah's life as he digs for the true meaning behind Jesus' words on the Mount of Olives.
Who were the sons of God?
Who were the Nephilim?
How did all flesh become corrupted?
Why was Noah's DNA so important?
Did Noah take pre-flood technology on the ark?
Why did God really destroy the Tower of Babel?
Is history really starting to repeat itself?
This book will forever change the way you look at the Bible, history, end time prophecy, and the infinite wisdom of God. As The Days of Noah Were is a must have for anyone that is serious about studing end time Bible prophecy.

---
TABLE OF CONTENTS
Acknowledgements
Introduction
Section I: The Flood
Ideas, Stories and Beliefs
Science and The Flood

Section II: The Theories

Lines of Seth Theory
The Angel Theory
Actions and Consequences

Section III: The Giants

The Corruption of All Flesh
A Brief History of Giants

Section IV: Noah and The Ark

The Days of Noah
A Skeptical Analysis

Section V: The End of The Age

Ancient Warnings
Ancient Prophecies Fulfilled
Possible Future of Mankind
Afterword
About the Author
Appendix A: Grouping of Flood Stories
Appendix B: The Valentich Disappearance
Appendix C: Human Animal Hybrid Prohibition Act

---
AUTHOR PROFILE
Minister Dante Fortson is a Las Vegas native and the co-host of the two radio talk show, The Omega Hour and How to Hunt The Supernatural. He is considered by many to be an expert on angels, demons, and other supernatural entities. Minister Fortson has appeared on many radio shows to discuss his beliefs in the supernatural and the role it plays in modern society.

---
BOOK SPECIFICATIONS
328 pages, paperback, appendix.
ISBN 9781451560541