Home
About Us
FAQ
Privacy Policy
Contact Us
Books
DVDs
VHS
Charts
Audio Books
General Information
Secure Order Form
Mail & Fax Orders
Shipping Rates

Mastercard
Visa, Discover
* * *
Phone Toll Free:
1-877-577-8743
within U.S.A.
* * *
International
1-336-246-2663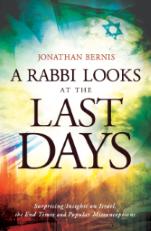 A RABBI LOOKS AT THE LAST DAYS
Surprising Insights on Israel, the End Times and Popular Misconceptions

Johathan Bernis, 2013



Few topics capture the imagination of believers like the last days. Yet fear and incorrect teachings continue to surround this topic. Rabbi Jonathan Bernis, by contrast, offers with warmth and clarity a unique and surprising perspective on the end times. Many see explosive turmoil in the Middle East and the mark of the beast as signs of the return of the Messiah. Bernis points out an even clearer and more immediate sign: the fulfillment of Old Testament prophecies regarding the restoration of the land of Israel and the regathering of the Lost Tribes of Israel--which is happening in record numbers right now. This book unpacks surprising and life-changing insights on Israel, the last days, and the Messianic hope of every believer.

---
TABLE OF CONTENTS
Preface
Acknowledgments
Part one: "...And Then the End Will Come"

What If Everything You Have Been Told about the Last Days Is Wrong?
Why Satan Hates the Jews

The first reason we can know the last days are near:
Satan is increasing his attacks on the Jews.

Aliyah: The Return of the Jews

The second reason we can know the last days are near:
Scattered Jews are returning to Israel from the four corners of the earth.

Something Is Happening among the Jewish People

The third reason we can know the last days are near:
Many thousands of Jews are turning to Yeshua.

The Gospel to the Nations

The fourth reason we can know the last days are near:
The Gospel is being preached to the nations.

The Mystery of the Two Messiahs

The fifth reason we can know the last days are near:
The rise of Messianic expectation in Israel.

Are "The Times of the Gentiles" at an End?

The sixth reason we can know the last days are upon us:
The times of the Gentiles are being fulfilled.

Part Two: Your Role in Ushering in God's Kingdom

Bringing "Life from the Dead"
Rabbi, What More Can I Do?
A Step Further
Jesus and the History of Israel
The Best Is Yet to Come
Notes

---
AUTHOR PROFILE
Jonathan Bernis is the president and CEO of Jewish Voice Ministries International. His weekly television show, Jewish Voice with Jonathan Bernis, is broadcast throughout the world. He has authored a number of popular books and is a frequent speaker at conferences throughout the USA and abroad. A leader in the Messianic Jewish movement for more than thirty years, Rabbi Bernis and his wife, Elisangela, live in Phoenix with their two daughters, Liel and Hannah.

---
BOOK SPECIFICATIONS
233 pages, paperback.
ISBN 9780800795436