Home
About Us
FAQ
Privacy Policy
Contact Us
Books
DVDs
VHS
Charts
Audio Books
General Information
Secure Order Form
Mail & Fax Orders
Shipping Rates

Mastercard
Visa, Discover
* * *
Phone Toll Free:
1-877-577-8743
within U.S.A.
* * *
International
1-336-246-2663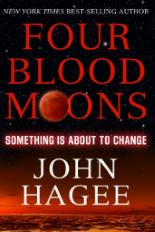 FOUR BLOOD MOONS
Something Is About to Change

John Hagee, 2013


$14.95
Ships within
24 hours!


"...There will be signs in the sun, in the moon, and in the stars...Now when these things begin to happen, look up and lift up your heads, because your redemption draws near." Luke 21:25a, 28
It is rare that Scripture, science, and history align with each other, yet the last three series of Four Blood Moons have done exactly that. Are these the "signs" that God refers to in His Word? If they are, what do they mean? What is their prophetic significance? In this riveting book, New York Times best-selling author, Pastor John Hagee, explores the supernatural connection of certain celestial events to biblical prophecy—and to the future of God's chosen people and to the nations of the world. Just as in biblical times, God is controlling the sun, the moon, and the stars to send our generation a signal that something big is about to happen. The question is: Are we watching and listening to His message?

---
TABLE OF CONTENTS
Acknowledgments
SECTION 1: THE SIGNS IN THE HEAVENS
Signs in the Heavens
The Star in the East
Warning Comes before Judgment

SECTION 2: THE SPINE OF PROPHECY

The Spine of Prophecy
When Will These Things Be?
Concerning the Rapture
Land of Promise, Land of Pain
Wars and Rumors of Wars
Famine, Earthquakes, and Anarchy
The Gospel of the Kingdom
The Second Coming

SECTION 3: THE FOUR BLOOD MOONS

The Four Blood Moons and Two Feasts
The Four Blood Moons of 1493-94
The Four Blood Moons of 1949-50
The Four Blood Moons of 1967-68
The Four Blood Moons of 2014-15
Notes

---
AUTHOR PROFILE
John Hagee is the author of several New York Times bestsellers including Jerusalem Countdown, which has sold over one million copies. He is the founder and senior pastor of Cornerstone Church in San Antonio, Texas, a nondenominational evangelical church with more than 20,000 active members. He is also the founder and president of John Hagee Ministries, which telecasts his radio and television teachings throughout America and in 249 nations worldwide. Hagee is the founder and national chairman of Christians United for Israel.

---
BOOK SPECIFICATIONS
257 pages, paperback.
ISBN 9781617952142