Home
About Us
FAQ
Privacy Policy
Contact Us
Books
DVDs
VHS
Charts
Audio Books
General Information
Secure Order Form
Mail & Fax Orders
Shipping Rates

Mastercard
Visa, Discover
* * *
Phone Toll Free:
1-877-577-8743
within U.S.A.
* * *
International
1-336-246-2663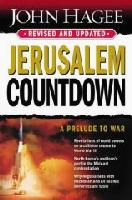 JERUSALEM COUNTDOWN
Revised and Updated Edition

John Hagee, 2006, 2007



There will soon be a nuclear blast in the Middle East that will transform the road to Armageddon into a racetrack. America and Israel will either take down Iran, or Iran will become nuclear and attempt to take down America and Israel. In this powerful new updated edition, you will discover:
The identities of the key players in a world-changing nuclear showdown.
The role of Russia, China, Europe, and America in the coming nuclear war.
Why Israel's war with Hezbollah was only a preview of coming events.
God's plan and purpose for His people in the coming crisis.
---
TABLE OF CONTENTS
Introduction
World War III Has Begun
Hitler's Nazis and Islamo-Fascists

Section 1--Where Are We Today?

The Coming Nuclear Countdown Between Iran and Israel
An American Hiroshima?
Unveiling Islam

Section 2--How Did We Reach This Point?

Jerusalem: The City of God
The War Against the Jews
The Rise of Anti-Semitism
Centuries of Mistreatment
Jerusalem Regains Independence

Section 3--What Does The Future Hold?

The Second Exodus Begins
Ezekiel's War: The Russians Are Coming
The End of the Beginning

Section 4--What Is The Christian Perspective?

The Magnificent Codicil
Who Is a Jew?
The Potter's House
Has God Rejected Israel?
God Blesses Gentiles Who Bless Israel
All Israel Will Be Saved
Five Bible Reasons Christians Should Support Israel
Appendix: Israel--Historical Timeline
Notes
Index

---
AUTHOR PROFILE
John Hagee is the founder and senior pastor of the 18,000-member Cornerstone Church in San Antonio, Texas. Known best nationally for his End-Time writings, he has authored several fiction and nonfiction best sellers, including the first edition of Jerusalem Countdown (with over 700,000 copies sold), What Every Man Wants in a Woman/What Every Woman Wants in a Man, and The Seven Secrets.

---
BOOK SPECIFICATIONS
263 pages, paper, appendix, index.
ISBN 9781599790893