Home
About Us
FAQ
Privacy Policy
Contact Us
Books
DVDs
VHS
Charts
Audio Books
General Information
Secure Order Form
Mail & Fax Orders
Shipping Rates

Mastercard
Visa, Discover
* * *
Phone Toll Free:
1-877-577-8743
within U.S.A.
* * *
International
1-336-246-2663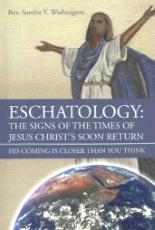 ESCHATOLOGY: THE SIGNS OF THE TIMES OF JESUS CHRIST'S SOON RETURN
His Coming is Closer Than You Think
Revised Edition

Rev. Sandra Y. Washington, 2014


$18.95
Ships within
24 hours!


Eschatology: The Signs of the Times of Jesus Christ's Soon Return was originally a title of a thesis that Rev. Washington was inspired to publish into a book format. She was inspired to alert the readers that Jesus' coming is closer than they think and that it is important for them to be aware of the signs of the times that tell of Jesus Christ's close return especially for those who receive His salvation. This book will include the events that will occur during the Rapture, the Great Tribulation, The Millennial Age and the Perfect Age, define the meaning of each Age and discuss the signs setting the state for each Age to come. This book will also prove the validity of the Bible that contains prophecies that were spoken and written by the prophets in the Old and New Testaments. Some of the prophecies proclaimed of what will happen in the end-times by the prophets of old such as, Daniel, Ezekiel, Joel, Zechariah, Jesus Christ, John, the Apostle Paul, etc., have already come to pass during the Church Age and during the history of Gentile nations until this day.

---
TABLE OF CONTENTS
Introduction
Past Time of The Gentile Events Up To The Present End-Time Events

God's Purposes Of Knowing The Signs of the Times

Nebuchadnessar's Dream Interpreted By Daniel

Other Latest Signs of the Times That Tell We're Living in the Last Days

Prophecies spoken by Jesus Christ in Matthew 24:3-14

Prophecies Spoken By The Apostle Paul

One Other Sign That Tells Of The Closeness Of Jesus' Secret Coming

The Rapture Events

The Purposes Of The Rapture Event

The Seven Raptures That Include The Raptures In The Past And Future

What Will Occur At The Rapture?

The Rapture Event Is Not Considered The Second Coming Of Jesus Christ

The Rapture Is A Pre-Tribulation Event Vs. Mid and Post-Tribulation Events

What Will Actually Occur At The Rapture Event?

Preparation for the Rapture

The Responsibility Of The Holy Spirit To Prepare The Body Of Christ

The Responsibility Of The Believer To Prepare

Signs Setting the State for The Great Tribulation

The Three Categories Of God's Seven Judgments During The Great Tribulation

The Seven Seal Judgments

The Seven Trumpet Judgments

The Seven Bowl Or Vial Judgments

Events Following The Judgments

How To Avoid The Great Tribulation

The Millennial Age

Pre-Millennialism vs. Amillennialism and Post-Millennialism

The Perfect Age or the Dispensation of the Fullness of Time

Conclusion

Bibliography
---
AUTHOR PROFILE
Rev. Sandra Y. Washington is a growing Prophetess as a seer and Evangelist/Teacher, holding a Master's Degree in Ministry (Theology). She's an ordained minister of the gospel by the International Congress of Churches and Ministers, Michael Chitwood, CEO, Chattanooga, TN. She's the Founder of her ministry, "The Great Commission Multi-Service Community Center Inc. It is an outreach ministry servicing Queens County communities.

---
BOOK SPECIFICATIONS
82 pages, paperback.
ISBN: 9780990378105