Home
About Us
FAQ
Privacy Policy
Contact Us
Books
DVDs
VHS
Charts
Audio Books
General Information
Secure Order Form
Mail & Fax Orders
Shipping Rates

Mastercard
Visa, Discover
* * *
Phone Toll Free:
1-877-577-8743
within U.S.A.
* * *
International
1-336-246-2663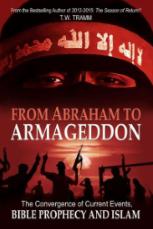 FROM ABRAHAM TO ARMAGEDDON
The Convergence of Current Events, Bible Prophecy and Islam

T.W. Tramm, 2008


$22.95
Ships within
24 hours!


Most Christians are either misinformed or blissfully unaware of how current events in the Middle East portend the fulfillment of major Bible prophecies. From Abraham to Armageddon: The Convergence of Current Events, Bible Prophecy, and Islam, explains how past, present, and future events in the Middle East relate to the rise of the Bible's "Islamic Antichrist." From the beginning of the Arab-Israeli conflict, to the birth of Islam, to the rise, demise, and ultimate regeneration of an Islamic empire, or "Caliphate," that will lead to a climactic showdown at Armageddon, T.W. Tramm makes sense of Bible passages that have baffled scholars for centuries: Learn about the mystery of "666"; the seven-headed, ten-horned beast of Revelation and its mysterious 'head wound'; the 'image of the beast'; and much more.

---
TABLE OF CONTENTS
A Word About Muslims
Preface
Introduction
PART I: LAYING THE GROUNDWORD
Origins
Islam: A Brief History

PART II: WHAT MAKES ISLAM "ISLAM?"

The Koran
Who is Allah?
Islamic Law
The Caliphate

PART III: BIBLE PROPHECY AND THE END TIMES

Bible Prophecy Fulfilled
Signs of the Times

PART IV: THE ROLE OF ISLAM IN THE END TIMES

Decoding the End-Times Beast
The Awakening of the Beast
Testing the Theory
Unmasking the Mahdi
The Mark of the Beast

PART V: THE CURRENT STATE OF AFFAIRS

The Islamic Revival: What in the World is Happening?
The Reach of the Beast: How Will America be Affected?
Conclusion - The Big Picture: From Abraham to Armageddon
Selected Bibliography
Endnotes
Appendix - Map

---
BOOK SPECIFICATIONS
273 pages, paperback, bibliography.
ISBN: 9780615255347