Home
About Us
FAQ
Privacy Policy
Contact Us
Books
DVDs
VHS
Charts
Audio Books
General Information
Secure Order Form
Mail & Fax Orders
Shipping Rates

Mastercard
Visa, Discover
* * *
Phone Toll Free:
1-877-577-8743
within U.S.A.
* * *
International
1-336-246-2663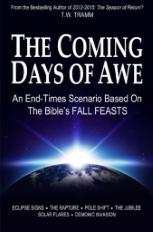 THE COMING DAYS OF AWE
An End-Times Scenario Based on the Bible's Fall Feasts

T.W. Tramm, 2014


$24.95
Ships within
24 hours!


More and more Christians today are realizing that the prophetic fall feasts and Jubilee are the keys to understanding God's plans for the end of the age. But how exactly will these appointed times be fulfilled? And where in Scripture do we see this? Based on knowledge of the featus and also a crucial understanding of the multi-layered nature of Bible prophecy, T.W. Tramm poses a scenario that answers these timely questions. Learn how the Day of the Lord will soon begin, and what will follow.
Also...
How a cataclysmic pole shift will accompany the Rapture
How the days will be shortened during the Tribulation
How Noah's Flood foreshadows the Rapture in ways most do not realize
How demons masquerading as "aliens" plan to invade the earth during the Tribulation
How the earth will be struck by devastating solar flares during the Tribulation, and how current solar activity forebodes this judgment
How and why prophecies and predictions of false prophets and religions worldwide echo the Bible's prophecies
Packed with invaluable insights, The Coming Days of Awe is a clear, concise, scripturally informed guidebook to end-times events--a must read for every person wondering what the signs portend, and how the Bible's prophecies are going to translate into reality.

---
TABLE OF CONTENTS
Preface
Introduction
PART I: FIRST THINGS FIRST
The Keys
The Multi-Layered Nature of Bible Prophecy
The Blueprint
Are You Ready?

PART II: THE MAIN EVENTS

The Rapture-Pole Shift
Aftermath
Wrath: The Trumpet/Bowl Judgments
Wrath: Comparing Joel to Revelation

PART III: MORE VALIDATION

Noah's Flood: Foreshadowing the Pre-Trib. Rapture
The Flood, God's Wrath, and Pole Shift
Appendix: Defending Pretribulationism
Notes

---
BOOK SPECIFICATIONS
335 pages, paperback, appendix.
ISBN: 9780578141190