Home
About Us
FAQ
Privacy Policy
Contact Us
Books
DVDs
VHS
Charts
Audio Books
General Information
Secure Order Form
Mail & Fax Orders
Shipping Rates

Mastercard
Visa, Discover
* * *
Phone Toll Free:
1-877-577-8743
within U.S.A.
* * *
International
1-336-246-2663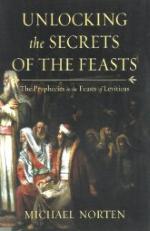 UNLOCKING THE SECRETS OF THE FEASTS
The Prophecies in the Feasts of Leviticus

Michael Norten, 2012, 2015


$12.95
Ships within
24 hours!


All the feasts from Passover to the Feast of Tabernacles have prophecies of God's plans for the world, embedded in the customs of these festivals that are known by only a few. Many of these revelations are quite shocking. You will be amazed as these mysteries are disclosed step-by-step in these chapters. God wanted us to be taught His plans through all our senses. Get ready to be stunned as you discover the intricate detail of the descriptions of the prophecies illustrated in the observances of these feasts. You will definitely acquire greater insight into God's plan for the ages.

---
TABLE OF CONTENTS
Acknowledgments
Preface
Introduction
The Passover
The Feast of Unleavened Bread
The Feast of Firstfruits
The Feast of Pentecost
The Feast of Trumpets
The Day of Atonement
The Feast of Tabernacles
Conclusion
Bibliography
About the Author

---
AUTHOR PROFILE
Michael Norten received a ThM from Dallas Theological Seminary in 1974. He has served on the staff of Campus Crusade for Christ and as a Bible instructor, representing various ministries for more than forty years. He was an associate pastor of Lewisville Bible Church in Lewisville, Texas, and served as interim pastor and pulpit supply for a number of churches in North Texas. He has been an independent representative and regional vice president of a financial services company for thirty years. He resides in Dallas, Texas, with his wife, Ann.

---
BOOK SPECIFICATIONS
90 pages, paperback.
ISBN: 9780718037024