Home
About Us
FAQ
Privacy Policy
Contact Us
Books
DVDs
VHS
Charts
Audio Books
General Information
Secure Order Form
Mail & Fax Orders
Shipping Rates

Mastercard
Visa, Discover
* * *
Phone Toll Free:
1-877-577-8743
within U.S.A.
* * *
International
1-336-246-2663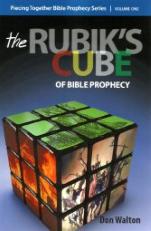 PIECING TOGETHER BIBLE PROPHECY: Volume 1
The Rubik's Cube of Bible Prophecy

Don Walton, 2012


$11.95
Ships within
24 hours!


The Rubik's Cube of Bible Prophecy is the first volume in a series entitled Piecing Together Bible Prophecy. The series is intended to ultimately provide the reader with a fairly thorough panorama of Bible prophecy that will serve as a scripturally sound summary of this most intriguing and important topic. Although the subject is unavoidably sensational, this series will attempt to steer clear of over-sensationalizing the subject. It will also attempt to present the reader with a different take on Bible prophecy than the traditional and popular theories of our day. This first volume lays the foundation for all that will follow by familiarizing the reader with the fundamentals of Bible prophecy. It asks and answers such important questions as: (1) Why should we study Bible prophecy? (2) How should we interpret Bible prophecy? (3) How did we end up with so many convoluted and contradictory schools of thought? and (4) How should we define the prominent terms employed today in the study of this most pertinent topic?

---
TABLE OF CONTENTS
The Rubik's Cube of Bible Prophecy
Why We Should Study Bible Prophecy
Coming to Terms
A Brief History of Modern-Day Eschatology
Interpreting Bible Prophecy
---
AUTHOR PROFILE
Don Walton is the founder and director of Time for Truth Ministries. He is also a pastor, revivalist, conference speaker, columnist, and author of several books and booklets. His other books include: The King of Hearts, Praying in the Harvest, and The Truth About Islam.

---
BOOK SPECIFICATIONS
100 pages, paperback.
ISBN: 9781449743536