Home
About Us
FAQ
Privacy Policy
Contact Us
Books
DVDs
VHS
Charts
Audio Books
General Information
Secure Order Form
Mail & Fax Orders
Shipping Rates

Mastercard
Visa, Discover
* * *
Phone Toll Free:
1-877-577-8743
within U.S.A.
* * *
International
1-336-246-2663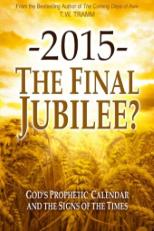 -2015- THE FINAL JUBILEE?
God's Prophetic Calendar and the Signs of the Times

T.W. Tramm, 2015


$12.95
Ships within
24 hours!


In his most concise and compelling work to date, T.W. Tramm proposes that Daniel's "sevens," a.k.a. the shemitah and jubilee cycles, are the key to understanding the Lord's timing. Learn how:
The Jubilee foreshadows specific end-times events.
Jubilee "templates" established millennia ago are being fulfilled today.
The Jewish return to Jerusalem in 1967 started a prophetic clock ticking.
A host of signs are converging to reestablish the long-lost jubilee cycle and what this reveals about our proximity to the Lord's return.
Informative and thought provoking, whether you have never heard of the Jubilee or are already well-versed, "-2015- The Final Jubilee?" will have you more encouraged than ever that the time of redemption draws nigh.

---
TABLE OF CONTENTS
Preface
Introduction
What Is the Jubilee?
How is the Jubilee Relevant to Us Today?
What Will Happen at the Final Jubilee?
What Is Messiah Coming to do at the Final Jubilee?
Jubilee Themes Hint at the Nature of Fulfillment
The Isaiah Link
The Day of Atonement and Jubilee
The Pentecost Parallel
The "Forty-Nine" Template
Review
When Is the Next Jubilee?
Rediscovering the Jubilee
TorahCalendar.com
Shemitah: Zeroing in on the Jubilee Year
God's Cycles and World Events
Jubilee Events
Jubilee Signs
The Meaning of Four
A Rare Occurrence
Eclipse Witnesses Testify
The Sun Will Be Turned to Darkness
The Second 2015 Solar Eclipse
More Jubilee Evidence
Enter the Land and Begin Counting
The Pentecost Pattern
The Olivet-Discourse Connection
Review
The 6,000-Year Calendar Suggests a Final (120th) Jubilee in 2015
The Known Shemitach Cycle Suggests a 2015 Jubilee
Eclipse Signs in 1967 and 2015 Suggest a 2015 Jubilee
Convergence of Shemitah, Jubilee, and Eclipse Signs Suggest a 2015 Jubilee
Isaac Newton's Interpretation of Daniel 9:25 Suggests a 2015 Jubilee
Foreshadowing Templates Suggest a 2015 Jubilee
The Olivet Discourse Suggests a 2015 Jubilee
Additional "Witnesses" Testify to a 2015 Jubilee
Never to Be Repeated
The Ultimate Question
Final Thoughts
Appendix: Eclipse-Sign Speculation
Notes

---
BOOK SPECIFICATIONS
81 pages, paperback
ISBN: 9780578165691