Home
About Us
FAQ
Privacy Policy
Contact Us
Books
DVDs
VHS
Charts
Audio Books
General Information
Secure Order Form
Mail & Fax Orders
Shipping Rates

Mastercard
Visa, Discover
* * *
Phone Toll Free:
1-877-577-8743
within U.S.A.
* * *
International
1-336-246-2663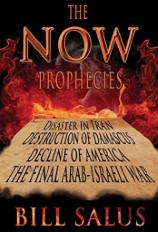 THE NOW PROPHECIES

Bill Salus, 2016


$14.95
Retail $15.99
Ships within
24 hours!


God's word to Noah was to prepare NOW for a worldwide flood. God's word to Joseph was to prepare Pharaoh and Egypt NOW for seven years of famine. God's word to Jeremiah was to prepare the Jews NOW for seventy years of exile into Babylon. The key word in these historical examples was NOW! What does God's Word say for us to prepare for NOW? What are the tough decisions we need to make? The NOW Prophecies book identifies the biblical prophecies that were written centuries ago for THIS GENERATION! These ancient inscriptions predict powerful events that will profoundly affect everyone. This book makes it easy to understand how to get ready NOW for what to expect in the near future!
---
TABLE OF CONTENTS
Preface
Abbreviations
Introducing the NOW Prophecies
Where Are We NOW On God's Timeline
The Gap between the NOW and the Next Prophecies
The Nuclear NOW Prophecy of Iran
Spiritual Showdowns Are Happening NOW
The Decline of America
Will Americans Perish from Lack of Prophetic Knowledge?
America in Ezekiel 38?
Ezekiel 38: The Marquee Event
Ezekiel 38: The Israeli Perspective
Psalm 83: The Final Arab-Israeli War
The Destruction of Damascus
The Trembling and Toppling of Jordan
The Terrorization of Egypt
The Vanishing of the Christians
Preparing Mentally and Physically for the NOW Prophecies
Preparing Spiritually for the NOW Prophecies
Appendix 1: The Text of Psalm 83 and Ezekiel 38:1-39:20
Appendix 2: Was Psalm 83 Fulfilled in 1948?
Appendix 3: Is Egypt in Psalm 83?
Appendix 4: Old Testament Allusions to the Rapture

---
AUTHOR PROFILES
Bill Salus is a media personality that has appeared on major Christian TV networks like, TBN, CBN, Daystar and more. Additionally, he is a conference speaker and the bestselling author of Psalm 83, The Missing Prophecy Revealed, How Israel Becomes the Next Mideast Superpower.

---
BOOK SPECIFICATIONS
240 pages, paperback, appendices.
ISBN: 9780988726079